Osborne Urges Businesses to Speak Out Over Brexit Concerns
by and
'Not the moment for businesses to sit it out,' chancellor says

Plea comes as polls show EU referendum remains on a knife-edge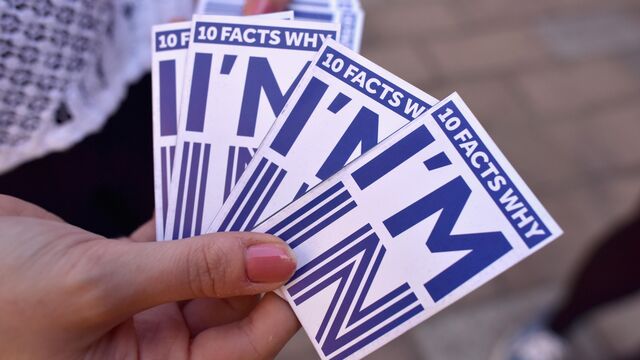 U.K. Chancellor of the Exchequer George Osborne called for pro-European Union businesses to speak up about their concerns as polls suggest momentum is building for a vote to leave the bloc.
Brexit Watch: The pound, the polls, and the probability of Brexit, all in one place
"People who are concerned or businesses who are concerned or investors who are concerned about the prospect of Britain leaving the EU should speak up," Osborne said in an interview with Bloomberg Television in Liverpool on Monday. "This is not the moment for businesses to sit it out."
His plea came as former Labour Prime Minister Gordon Brown sought to relaunch the opposition party's campaign to keep Britain in the 28-nation EU. With Osborne's Conservative Party split over the referendum, "Remain" is hoping that Labour can convince those voters who have yet to decide how to vote to support its campaign as polls suggest the result is on a knife-edge.
"It makes sense to set minimum standards across Europe," Brown said in a speech in Leicester, central England. "Maternity pay, gender equality, holiday pay, a maximum working week -- all gained from Europe."
More to Do
Osborne made his comments following a speech to the International Festival for Business. He and Prime Minister David Cameron have led the campaign to keep Britain in the EU, and many suggest their positions will be untenable if the country votes to leave.
Asked whether he'd remain chancellor in the event of a Brexit, Osborne said he's got "a huge amount more to do," adding: "This is not about my job, in the end it's about the country's economic future."
Anxiety over the prospect of a Brexit jolted financial markets on Monday after one poll late last week showed a 10 point-lead for leaving the EU. Global stocks sank for a third day and the pound slipped to an eight-week low before recovering to $1.4276 as of 3:51 p.m. London time. The yield on the 10-year U.K. government bond declined to 1.22 percent, just off a record low.
As "Leave" continues to focus on immigration, Osborne stuck to warning about the economic risks of leaving the club of nations Britain joined 43 years ago -- a strategy polls suggest is not getting across to voters. Quitting the EU, according to a Treasury analysis, would cause sterling to depreciate and fuel inflation, he said.
"Yes, of course there would be concern in financial markets; yes, there would be uncertainty for a number of years as Britain works out its new trading relationship with the European Union and indeed other countries round the world," he said. "But the real challenge for the country is this: Britain would be permanently poorer."
Before it's here, it's on the Bloomberg Terminal.
LEARN MORE