politics
Orlando Massacre Reframes Presidential Race as Trump and Clinton Trade Barbs
The deadliest shooting in U.S. history has the Democrat calling for tougher gun laws and the Republican pushing a Muslim ban.
By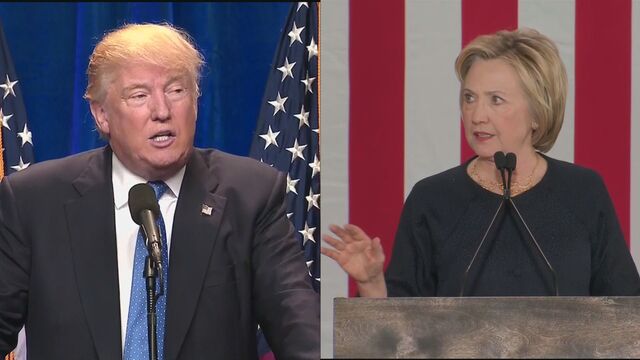 A shooting rampage of unprecedented proportions early Sunday spilled over into the U.S. presidential race as Hillary Clinton and Donald Trump moved on Monday to refocus their messages on national security and terrorism. While Clinton stressed the need for tougher guns laws and labeled her rival "dangerous," Trump lamented Muslim immigration and called his opponent "weak."
Following the deaths of 50 at an Orlando club, which President Barack Obama called "an act of terror," Trump, the presumptive Republican nominee, called again on Monday for a ban on Muslim immigration—a proposal that many senior GOP politicians have rejected even as it boosted Trump in the primaries.
"Tens of thousands of people are pouring into our country and many of them are no different" from the alleged shooter, Trump said Monday on Fox & Friends. The suspect, 29-year-old Omar Mateen, who was killed in a shootout with police, was born in the U.S. and, according to media reports, pledged allegiance to the Islamic State terrorist group before the shooting at the club, which catered predominantly to gay men.
Trump had previously suggested he might be flexible on the proposal, but after the attack, he moved back toward a defiant stance, adding that the U.S. was engaged in "absolute war." As part of that conflict, he said the U.S. needs to be "very strong in terms of looking at the mosques" and suggested American Muslims know who among them may be radicalized but aren't communicating with law enforcement.
"If they don't turn them in, we are never going to be able to get along," Trump said in the interview. "It's going to be an impossible situation"
Clinton, the presumptive Democratic nominee, had also returned to campaign themes of gun control that she has honed for months, telling ABC's Good Morning America Monday said that the U.S. should be "getting the Congress to do something on common sense gun safety measures."
The former secretary of state under Obama noted the FBI had interviewed Mateen multiple times because of his statements.
"In this particular case, he was interviewed more than once because of reports of what he was saying and yet he had absolutely no trouble walking in and buying an assault weapon," she said.
In an interview Monday with CNN, Clinton also called for the reinstatement of a nationwide assault weapons ban and noted Congress has declined to block gun sales for those on the so-called no-fly list. The suspect had bought weapons and ammunition legally last week, according to news reports. When asked what law changes Clinton said could have prevented the attack, Clinton instead spoke broadly about gun-control measures not present in Florida.
As the full scale of the attacks came to light, both candidates with their eyes on the general election updated their plans to get in line with the somber tone of the event. Clinton canceled a joint campaign appearance with Obama scheduled for Wednesday in Green Bay, Wisconsin—a first event with the president, who endorsed her last week, in an important state for the general election. She will instead discuss her plan to combat Islamic State and keep the country safe at events this week, a top campaign aide said. Trump, the presumptive Republican nominee, will change the theme of a Monday speech that had been focus Hillary and Bill Clinton to national security.
The two candidates made their case against each other on Monday morning.
"Donald Trump's rhetoric is quite dangerous to our country," she said on CNN, adding that those who "demonize and demagogue and declare war on an entire religion" are playing "into ISIS's hands." (ISIS is another name for the Islamic State.)
Following up on attacks from Sunday that Clinton has proposed accepting more refugees from war-torn Syria, Trump said Clinton was "a weak person."
"She is not the right person, especially in these times," he said on Fox. "These are times when you need solidity."
'Weak Platitudes'
Clinton spokeswoman Jennifer Palmieri fired back Sunday against Trump's attacks.
"Hillary Clinton has a comprehensive plan to combat ISIS at home and abroad and will be talking to the American people in the coming days about steps she would take to keep the country safe. In contrast, Donald Trump put out political attacks, weak platitudes and self-congratulations. Trump has offered no real plans to keep our nation safe and no outreach to the Americans targeted, just insults and attacks," she said in a statement.
Trump had accepted congratulations from fans on Twitter Sunday for "being right about Islamic terrorism" by previously calling for a ban on Muslims entering the U.S.
"I'm getting thousands of letters and tweets that I was right about the whole situation," he added on Fox on Monday. "I was right about many, many things."
After the San Bernardino, California, shootings in December by a radicalized Muslim couple, Trump called for an indefinite ban on Muslim immigration and travel to the U.S. The idea, while controversial, ended up boosting the New York real estate developer in the nominating battle—more than two-thirds of Republican primary voters supported it, polls say. Clinton opposes the idea, having described it as a self-defeating move that helps terrorists recruit. Top congressional Republicans also oppose the proposal.
Head-to-head surveys show Clinton building a lead over Trump in recent weeks after the race had tightened in May. Trump has faced a rough stretch, publicly sparring with Republican leaders over his attack on the Mexican heritage of a federal judge reviewing a case involving Trump University. Still, the contest is close: Clinton leads by 3 points in a Fox News poll, 8 points in a Reuters poll and 4 points in a Quinnipiac University poll taken in the last three weeks. 
The Orlando shooting gives Trump an opportunity to shift focus. Americans believe Trump would be more effective at battling the Islamic State than Clinton by a margin of 49 to 41 percent, according to the Quinnipiac poll in late May. Trump's bluster boosted him in the primary, although it's unclear if his brand of tough talk will work with the general electorate.
Clinton is likely to emphasize her key strengths: foreign policy knowledge and an even-keeled temperament. A Fox News poll this month found that 71 percent believe Clinton has the knowledge to serve effectively as president, while just 38 percent said the same for Trump. Clinton also won high marks for temperament—60 percent—while just 33 percent rated Trump positively on that front. The Quinnipiac poll found that Americans trust Clinton over Trump with nuclear weapons and to handle an international crisis.
While Trump has branded Clinton "weak," she has lambasted him as a "loose cannon."
Gun Control Unlikely
In a brief statement from the White House, Obama called the attack at the Pulse nightclub an "act of terror" and expressed solidarity with the LGBT community, which is in the middle of Pride Month. He said law enforcement so far has "no definitive judgment on the precise motivations of the killer."
Obama also reiterated his call for gun control, but did so with the resigned tone of a president who has given too many speeches calling for action that have been met with a shrug from Congress. Sunday's was Obama's 14th speech after a mass shooting, and the sixth in the past year alone. 
"Today marks the most deadly shooting in American history," Obama said from the White House's James S. Brady Press Briefing Room, named for Ronald Reagan's spokesman who was shot in 1981 during an assassination attempt on the then-president. 
"This massacre is therefore a further reminder of how easy it is for someone to get their hands on a weapon that lets them shoot people in a school, or in a house of worship, or a movie theater, or in a nightclub. And we have to decide if that's the kind of country we want to be. And to actively do nothing is a decision as well," said Obama. 
Trump, for his part, has rejected new gun control measures and has instead stood with the National Rifle Association and numerous Republicans in Congress in proposing looser gun laws. His statements and tweets regarding the Orlando shooting didn't mention gun policy.
Prospects of new gun control measures in the Republican-led Congress are slim. After the 2012 killing of 20 elementary school children and six adult staff in Newtown, Connecticut, the Senate in 2013 failed to advance a modest measure to close a loophole through which criminals could buy a firearm at a gun show or online without a background check. The bill faced broad Republican and some Democratic opposition.
Mateen carried out Sunday's massacre with a handgun and an AR-15 assault rifle, according to Orlando police chief John Mina, the same type of high-capacity weapon in Newtown.
Efforts to revive an assault weapons ban for civilians have similarly gone nowhere in recent years in Congress. A federal ban was in place for 10 years, 1994-2004, before it was allowed to lapse. 
Connecticut Senator Chris Murphy dialed up the temperature Sunday, saying in a statement that "Congress has become complicit in these murders by its total, unconscionable deafening silence."
House Speaker Paul Ryan ordered flags above the Capitol to be flown at half-staff in honor of the victims in Orlando, and vowed that America will never "back down in the face of terror."
His statement didn't mention guns.
—With assistance from Ben Brody.
(
Updates with Trump, Clinton Monday comments starting in first paragraph.
)
Before it's here, it's on the Bloomberg Terminal.
LEARN MORE