Nigeria Oil Militants Give Talk Terms, Threaten Bloodshed
by and
Crude output at its lowest level in almost three decades

Oil minister says dialogue with Niger Delta Avengers ongoing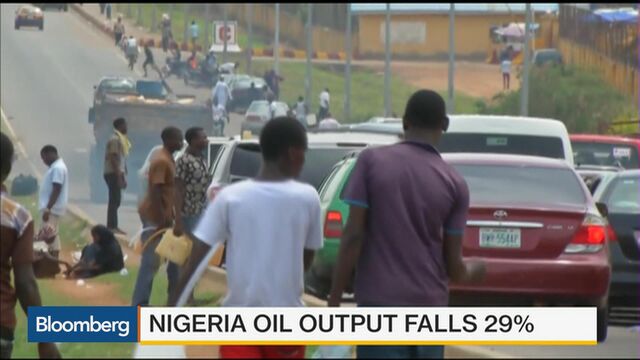 Nigerian militants whose attacks on oil infrastructure have sent output plunging to its lowest level in 27 years said for the first time that they are considering peace talks, even as they threatened to rethink their policy of avoiding bloodshed.
QuickTake Nigeria's Horrors and Hopes
The oil minister said Monday that negotiations with the Niger Delta Avengers had begun.
After rejecting talks with the government last week, the militants said they would need "a genuine attitude and conducive atmosphere" in order to "commit to any proposed dialogue." At the same time, they threatened to "review our earlier stance of not taking lives" in a statement posted on a group website whose authenticity Bloomberg cannot confirm.
The presidency didn't immediately return calls and an e-mail seeking comments.
"The fact that you're ready to dialogue means that there's some optimism that we can sort out this mess through dialogue, without necessarily deploying troops on the ground," said Dolapo Oni, a Lagos-based oil analyst at Ecobank Transnational Inc.
Taking Seriously
The NDA's warning about possibly taking lives is likely to be "posturing," as parties entering a negotiation want to look stronger, Oni said. "But when it comes from a group that has fulfilled all their threats, it might be worse than posturing, so you want to take them seriously."  
The militants also renewed a warning to oil companies not to attempt to repair pipelines and facilities damaged by attacks that have mostly targeted Royal Dutch Shell Plc, Chevron Corp. and Eni SpA. in the oil-producing Niger River delta region. Shell, Chevron, Exxon Mobil Corp., Total SA and Eni run joint ventures with the state-owned Nigerian National National Petroleum Corp. that pump about 80 percent of Nigeria's crude.
"The international oil companies have to be part of the negotiation," Oni said. "The Niger Delta Avengers have focused all their attacks on Chevron and Eni. That might be a reason they want them involved." 
Precious Okolobo, Lagos-based Shell spokesman, declined to comment when contacted. So did Exxon Mobil's spokesman Ogechukwu Udeagha. Chevron, and Eni didn't immediately respond to calls and e-mails seeking comment.
'Yield Fruits'
The attacks in the delta started in February after President Muhammadu Buhari, elected last year on an anti-graft campaign, ended contracts to protect oil facilities with militant commanders. His administration also slashed monthly stipends to fighters that the previous government approved to end a similar uprising in 2009 which had crippled output.
Nigeria's oil output sank to the lowest in almost three decades, in the last few months, as armed groups ruptured pipelines. Total volume of crude shut due to the violence ranges from 700,000 to 800,000 barrels per day, according to the state-owned oil company.
Nigerian State Minister for Petroleum Resources Emmanuel Kachikwu said talks with the NDA are currently taking place and have begun "to yield fruits."
"We're engaged in negotiations because that's the solution," Kachikwu said during a meeting broadcast live on TV. "I have appealed to them for us to find peace this week and be able to enter a truce relationship that stops all the destruction."
"One would like a quick resolution to this situation given its huge economic impact for the country," said Pabina Yinkere, Lagos-based head of research at Vetiva Capital Management Ltd. "However, these kinds of negotiations can take longer than wished for given that some of the demands of the NDA, if they were to be considered, are not things that can happen overnight."
The NDA said earlier in June that they were asking the government for access to drinking water, electricity, education, roads and employment for the people of the Niger delta they claim to represent. The militants also demanded "resource control, participation in the oil business and inclusive governance that will engender substantial freedom," in a statement posted to the group website.
Before it's here, it's on the Bloomberg Terminal.
LEARN MORE