technology
Goldman Tied to Rival Bidder as Morgan Stanley Wins on Microsoft
By , , and
Morgan Stanley climbs to No. 1 dealmaker for tech this year

Allen & Co. joins Quattrone's Qatalyst advising LinkedIn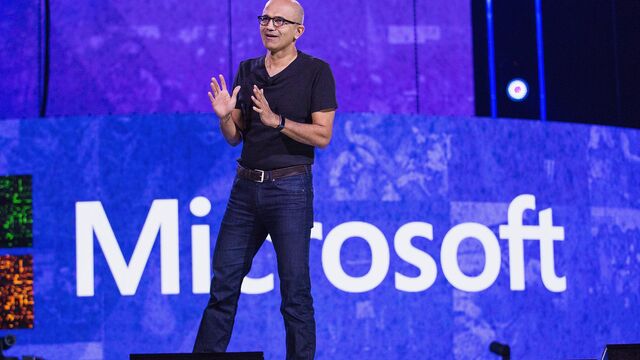 Morgan Stanley won the role as Microsoft Corp.'s adviser on its agreement to buy LinkedIn Corp., vaulting the bank ahead of Goldman Sachs Group Inc. in technology dealmaking this year. Goldman Sachs was representing another potential bidder, according to people familiar with the matter.
Goldman Sachs was conflicted from working with Microsoft on the transaction, said the people, who didn't name the other suitor and asked not to be identified discussing a private process. The bank is the global leader in overall mergers and acquisitions and has worked with Microsoft on more than $25 billion of deals, advising former Chief Executive Officer Steve Ballmer on his two largest deals.
The LinkedIn agreement propels New York-based Morgan Stanley to the No. 1 adviser in technology, media and telecommunications, or TMT, dealmaking this year, according to data compiled by Bloomberg. Morgan Stanley has been helped in the industry by its role underwriting initial public offerings, including LinkedIn's 2011 IPO, another transaction in which its larger Wall Street rival wasn't involved.
"Goldman has been doing extremely well in M&A," said Jeff Nassof, a vice president at advisory firm Freeman & Co. "They can't be on everything."
Morgan Stanley may reap $10 million to $20 million on the transaction, Nassof said. The software giant will pay $26.2 billion in cash. Michael DuVally, a spokesman for Goldman Sachs, declined to comment, as did Morgan Stanley's Mary Claire Delaney and LinkedIn's Nicole Leverich. A Microsoft representative didn't return a message seeking comment on the banking relationship.
Goldman Ties
Microsoft CEO Satya Nadella announced an agreement Monday to buy Mountain View, California-based LinkedIn to put the maker of Windows software at the center of people's business lives. He has been working to reignite growth after losses tied to the 2014 acquisition of Nokia Oyj's phone business.
Goldman Sachs advised Ballmer on that deal, which was initially opposed by Nadella. The bank also advised on the 2011 purchase of Skype.
Microsoft will finance the all-cash LinkedIn transaction partly by issuing debt. Banks could generate $40 million to $60 million in additional fees from a debt offering if Microsoft raises $15 billion, Nassof said. While large banks have an advantage advising buyers who need access to the debt market, sellers are more frequently turning to boutique firms.
Allen, Qatalyst
Allen & Co. and Frank Quattrone's Qatalyst Group advised LinkedIn. Those firms may split as much as $45 million in fees, Nassof said. Allen also worked on LinkedIn's IPO and helped Facebook Inc. buy WhatsApp. The boutique is known for an annual media and communications conference in Sun Valley, Idaho.
At Qatalyst, CEO George Boutros, Jonathan Turner, Marcie Vu and Quattrone worked on the LinkedIn deal, according to a person familiar with the matter. The transaction is the largest ever for Quattrone's firm, which now ranks No. 6 in TMT dealmaking this year, according to Bloomberg data. Allen is fifth.
Morgan Stanley's Drew Guevara, who was promoted in 2014 to co-lead technology banking, and co-head of technology M&A Mike Wyatt worked on the Microsoft transaction, according to a person familiar with the assignment, who asked not to be identified discussing the deal.
Morgan Stanley was among the advisers on Markit Ltd.'s agreement in March to buy IHS Inc., data compiled by Bloomberg show. Goldman Sachs worked with SanDisk Corp. on its sale last month to Western Digital Corp.
Morgan Stanley slipped 28 cents to $25.26 at 4 p.m. in New York. The company has dropped 21 percent since Dec. 31. Goldman Sachs fell $1.26 to $148.63, extending its drop this year to 18 percent.
Morgan Stanley has worked on more than $60 billion of TMT deals this year, compared with about $57 billion for Goldman Sachs.
— With assistance by Katherine Chiglinsky, and Sarah Frier
Before it's here, it's on the Bloomberg Terminal.
LEARN MORE