Indian Pharma Tycoons Foray Into New Drugs to Shore Up Growth
by
Research costs are rising as India's drugmakers go up market

Owners seem willing to take short-term hit for long-term gain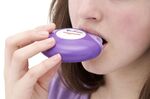 Indian drugmakers are embarking on a research spending spree to master more complex therapies and their billionaire founders look willing to absorb the costs.
The goal? To reach more people like Ryan Matzner, an asthma patient who lives thousands of miles away in New York. For years, the 31-year-old app developer has been a regular buyer of a pocket-sized purple disc made by GlaxoSmithKline Plc that helps keep his airways from clogging. The U.S. patent on the device, called the Diskus inhaler, expires this year and some of India's leading drug companies want a piece of the treatment's $5.6 billion in sales.
But the puffer is more complex than it looks and their efforts to master it, and other tricky technologies, are driving unprecedented investments in advanced research. The companies need to pursue more complex targets as prices fall for basic generic treatments. Success at copying cancer therapies or injectable medicines promises greater profits overseas, and could drive India's family pharmaceutical businesses for another generation.
"In order to grow they have to move up, or else probably stagnate," said Hemant Bakhru, an analyst with UBS Group AG's Indian unit, who covers the pharmaceutical industry from Mumbai. Indian tycoons want businesses they can "pass on to their kids," he said.
Such ambitions don't come cheap. Research and development spending on things like drug trials and scientist salaries shot up to 8.8 percent of sales from 6.6 percent on average at India's three largest pharmaceutical firms last fiscal year, according to data compiled by Bloomberg. In 2009 it was 5.6 percent.
Even if they get the research right, the Indian companies' plans will take some years to payoff, and when they do they'll likely be facing larger global competitors in the higher-end markets. International companies including Canonsburg, Pennsylvania-based Mylan NV, are in a race to bring a generic version of Advair Diskus to the U.S. market.

Some of India's biggest firms are among the companies pursuing Glaxo's Diskus inhaler, which delivers the drug Advair. Lupin Ltd., chaired by India's 12th richest man, Desh Bandhu Gupta, is set to commence clinical trials on the treatment this year, according to regulatory filings. Cipla Ltd., whose founder is also a billionaire, said on a call last year that its own generic version of the device and medicine combo could be in the U.S. by 2019.
Meanwhile, a sister company to India's largest drugmaker, Sun Pharmaceutical Industries Ltd. -- both are run by India's second-richest man -- is working on a similar device, according to presentations from that company.
For the patients who use the specialty drugs, the Indian firms' entry holds the promise of lower costs. Matzner credits Advair with cutting his asthma treatments from 45 minutes a day to a pair of quick puffs. But he also remembers having to pay as much as $600 for a month's worth when he spent a year without health insurance, or else enlist friends in the U.K., where the drug is cheaper, to bring a few puffers back with them on visits.
"If it becomes cheaper I think it definitely becomes accessible to more people," he said.
More Ambitious
The Indian firms are growing more ambitious in other areas as well. Rather than simply copy Glaxo's migraine medication Imitrex, Dr. Reddy's Laboratories Ltd., India's second-largest drugmaker by revenue, tweaked the formula to make it act faster at smaller doses. Sun is working on an innovative drug to treat the skin condition psoriasis.
And the Indians' investments proved a drag on quarterly earnings last month, particularly as many companies face an added headwind: stepped up scrutiny from U.S. regulators who in recent years have uncovered manufacturing shortfalls at several factories in India. The combined pressures have rattled investors -- in the last month Sun's shares have dropped about 5 percent while Lupin's have posted a loss of around 9 percent. But the family-controlled businesses show no sign of changing course on their investment plans.
Sun will "continue investing in building the specialty pharma business in the U.S. which may impact short-term profitability," Dilip Shanghvi, Sun Pharma's billionaire founder, said on the company's conference call after reporting fourth-quarter earnings that missed analyst estimates.
Indian drug firms can't afford to delay their reinvention as their traditional business model is deteriorating, said Prakash Agarwal, an analyst at Axis Capital Ltd. who follows the Indian companies. Smaller compatriots are driving down prices of simple generic drugs by piling into the market, while consolidation among U.S. pharmacies has increased their ability to bargain down prices from Indian manufacturers.
"There is little choice but to put in more money in R&D," Kamal Kishore Sharma, Lupin's vice chairman, said on an analyst conference call May 19. "There is lot more clinical development that you have to do and that takes in a lot of money."
Before it's here, it's on the Bloomberg Terminal.
LEARN MORE