High Anxiety Over Brexit Survey Crashes U.K. Pollster's Site
by and
ICM analyst says 'everyone needs to calm down a bit'

Survey last week sent pound to lowest level since April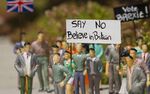 A rumor that new data on a possible Brexit was due to be published overwhelmed the website of U.K. pollster ICM, highlighting the anxiety in the financial markets over the vote in 10 days on Britain's membership in the European Union.
QuickTake What's Behind the Brexit Vote
Though no time of publication for the survey data had been released, word spread among traders that it was due to be published for 12:30 p.m. in London. The traffic brought down ICM's website. Less than four hours later, the pound briefly spiked when an old ICM poll showing Remain 10 percentage points ahead was shared on Twitter before paring its gains.
"Everyone needs to calm down a bit," Martin Boon, ICM's political analyst, tweeted at 12:42 p.m. "Please leave me alone so I can get the data to" the Guardian newspaper.
Market reactions to surveys for next week's referendum have made polls valuable commodities for traders. The pound fell to its lowest level since April on Friday after a poll suggested the "Leave" campaign was 10 points ahead. Most polls show the two sides neck-and-neck ahead of the June 23 referendum.
Sterling swung again on Monday as anxiety about Britain's referendum on staying in or leaving the European Union continued. The pound gained as much as 0.5 percent after the old poll circulated on Twitter and was little changed at $1.4265 as of 4:05 p.m. London time. It earlier dropped 1 percent to $1.4116, the lowest since April 14.
A man who answered the phone at ICM's head office in London said Boon was too busy tackling "issues" with the company's website to come to the phone.
Before it's here, it's on the Bloomberg Terminal.
LEARN MORE