markets
Here's a Short List of How The ECB Is Already Influencing the Corporate Bond Market
It's early days but the central bank is already making its presence felt.
By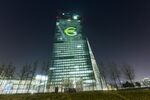 Contorting, distorting or supporting? Any one of those words might describe the European Central Bank's nascent corporate bond-buying program.
Thumb through Bank of America Corp.'s June survey of credit investors and you'll find plenty of concern surrounding the latest leg of European quantitative easing, with investors more afraid of credit bubbles and market distortions than anything else — including the risk of a Brexit.  


For perhaps the clearest demonstration of credit market distortions, look at the borrowing costs for Europe's companies. HSBC Holdings Plc analysts led by Jamie Stuttard point out that corporate yields at 0.8 percent are a sixth of what they were in the final quarter of 2011 when Mario Draghi took the reigns at the ECB.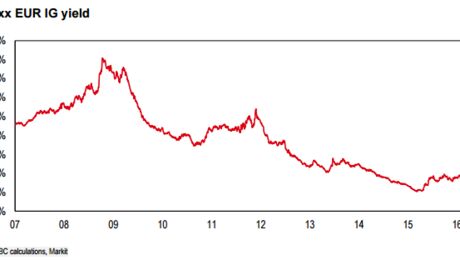 And those lower borrowing costs for debt in euros will draw a wave of non-eurozone issuers hoping to take advantage of cheaper borrowing costs, say Societe Generale SA analysts led by Juan Esteban Valencia. The ECB's action is also causing the differential between dollar and euro investment-grade yields to widen, they said.

Today gave the first clue of Mario Draghi's appetite for corporate bonds as the central bank reported how much it spent on company bonds after starting the purchase program on June 8, and it was greater than expected. Whether that pace is sustainable or not, the market already looks different.
Before it's here, it's on the Bloomberg Terminal.
LEARN MORE