Five Things You Need to Know to Start Your Day
Get caught up on what's moving markets.
by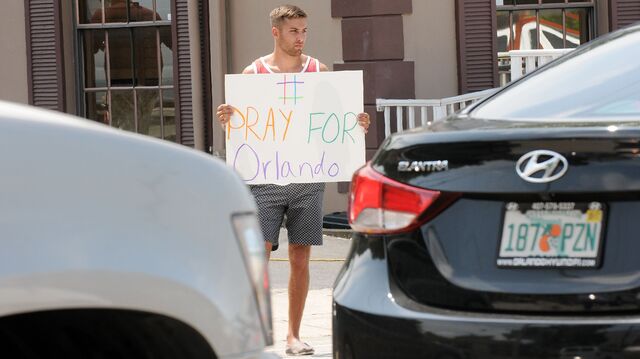 Want to receive this post in your inbox every morning? Sign up here
Markets move firmly into risk-off mode, investment banks can't agree on where bonds are going, and the U.S. suffers its worst ever mass-shooting. Here are some of the things people in markets are talking about today.
Markets slump
The MSCI Asia Pacific Index slumped 2 percent overnight with Japan's Topix index plunging 3.5 percent while the yen rallied. China's Shanghai Composite Index dropped 3.2 percent, the most in three months, ahead of this week's decision from MSCI Inc. on whether to include mainland shares in its global indexes. In Europe, the Stoxx 600 Index was 1.7 percent lower at 5:25 a.m. ET with Italian banks leading the losses. In London, a gauge tracking share volatility expectations is heading for its biggest three-day jump in six months. S&P 500 futures were 0.8 percent lower.
Where next for bonds?
Morgan Stanley says that the bond market rally has further to run, while Goldman Sachs Inc. is looking for benchmark U.S. Treasury yields to jump. Meanwhile, economists surveyed by Bloomberg say the German 10-year yield, which continues to flirt with a negative print this morning, is set to climb from the record lows reached in recent days. The continuing global demand for sovereign debt leaves the market "a lot more vulnerable," according to Torsten Slok, the chief international economist at Deutsche Bank AG.
Orlando attack
At least 50 people are dead following Saturday night's attack on a nightcub in Orlando, Florida. The assailant, Omar Mateen, an employee of G4S Plc, declared allegiance to terror group Islamic State in the hours before his attack. In the aftermath of the shooting presumptive Democratic presidential nominee has called for tougher gun laws while presumptive Republican nominee Donald Trump refocused on his proposal to ban muslims.
10 days to Brexit vote
As the campaign on the Brexit referendum enters its final straight, the 'remain' camp is starting to feel the pressure. One poll published on Friday showed the 'leave' campaign 10 points ahead, while other polls published over the weekend show the result as still too-close-to-call. Bookmaker probabilities for the remain outcome, while still well over 50 percent, have hit their lowest level yet. The pound is also at its lowest level since mid-April. 
Apple developer event
Apple Inc. starts its annual Worldwide Developers Conference in San Francisco today. The company, which announced on Friday that its next iPhone would use modem chips from Intel Corp., has been focusing recently on breaking into developing markets, particularly India. The company is expected to announce changes to its Apple Pay service at the conference as competition in the online payments space increases.
What we've been reading 
This is what's caught our eye over the weekend.
Before it's here, it's on the Bloomberg Terminal.
LEARN MORE