Ex-UBS Trader's Hedge Fund Bets on 10% Aussie Rally Versus Kiwi
by
Satur sees Australia's currency rebounding to NZ$1.15-NZ$1.20

Aussie 'significantly undervalued' against kiwi: Forrester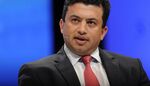 The next big trade for Gerard Satur is betting on a rebound in the Australian dollar from near a record low against its New Zealand counterpart.
The former UBS Group AG trader's hedge fund reckons the larger economy will cope better in its search for new drivers of growth than New Zealand, which is threatened by falling dairy prices. Aussie is set to recover to NZ$1.15 to NZ$1.20 in "the medium term," said the chief investment officer of Sydney-based MST Capital. The Australian currency slid to NZ$1.041 last week -- within 4 cents of a historical low -- after the Reserve Bank of New Zealand left its key rate unchanged and said it expects inflation to accelerate.
"These are attractive levels to re-enter trades to buy Aussie-kiwi," said Satur, who declined to comment on the size of the fund's investments or performance. "We're a lot more bearish on New Zealand than Australia in the medium term because of dairy."
Satur has said he previously led the only team of traders at UBS with a global mandate to make bets on macroeconomic trends. He left the Zurich-based bank along with his colleagues in 2012 to start up MST Capital as regulators put limits on risk taking following the global financial crisis that started in 2007.
Policy Outlook
MST Capital had earlier made the right calls on the Australian dollar when it declined against the greenback in January and subsequently climbed against the kiwi through March. New Zealand's central bank will likely cut interest rates in the fourth quarter as the three-year slump in milk powder is set to worsen, Satur said.
The Aussie was at NZ$1.0480 at 10:10 a.m. in Sydney on Tuesday. It has tumbled 5.5 percent since March 31, set for the worst quarterly performance since the final three months of 2014.

Australia's weak inflation helped prompt its central bank to cut rates in May. The Reserve Bank of Australia will probably ease again in the fourth quarter as it "makes sense" for the central bank to wait for Philip Lowe to take over the helm from Glenn Stevens in September before making a move, Satur said. It might act sooner if data are weak, he said. Swaps traders see a 53 percent chance of a rate cut by October.
Outside consumer prices, Australia's economy has appeared in good shape as it shifts away from its reliance on mining to other drivers of growth: unemployment is near a three-year low, business conditions and confidence are strong and the key iron ore price has rebounded more than 20 percent this year.
Milk Payout
By contrast, New Zealand's milk powder prices are little changed in 2016 after tumbling about 50 percent in the previous two years. While the economy is being supported by record immigration, tourism, construction and low borrowing costs, weak dairy prices are a "moderating influence" on growth, the RBNZ said on June 9. Fonterra Cooperative Group Ltd., the world's biggest dairy exporter, last month forecast a lower-than-expected milk payout for the 2016-17 season, which will depress farm incomes and hurt spending.
"At current dairy prices, we think a large percentage of New Zealand dairy farmers are cashflow negative," Satur said. "The weakness in dairy prices will get worse before it potentially gets better."
Australia's growth is set to outpace New Zealand's starting this year through 2018, after trailing its Antipodean neighbor in the last two years, according to economists' forecasts.
While RBNZ Governor Graeme Wheeler has shown he's ready and willing to ease, his RBA counterpart Stevens did not give any explicit guidance for the central bank's next move when it maintained policy this month.
The Aussie has become "significantly undervalued" against the kiwi, said David Forrester, a foreign-exchange strategist at Credit Agricole SA's corporate and investment-banking unit in Hong Kong.
"The explicit easing bias of New Zealand's central bank contrasts with the implicit easing bias of Australia's," Forrester said. "The Australian economy is also transitioning away from its mining-investment boom better than the New Zealand economy is transitioning away from its dairy investment or exports boom."
Before it's here, it's on the Bloomberg Terminal.
LEARN MORE