business
ECB Surpasses Expectations With First Corporate-Bond Purchases
By
Central bank reports 348 million euros of corporate holdings

Start of buying has helped pushed yields to one-year low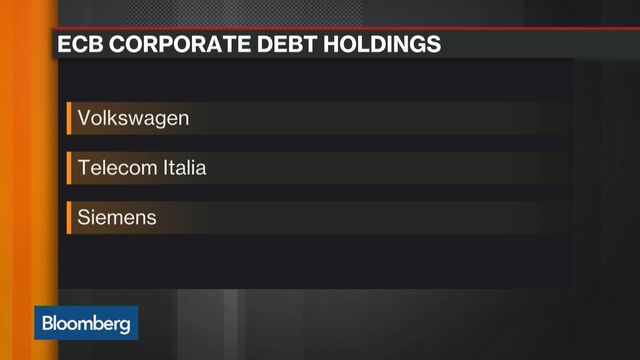 The European Central Bank's first corporate-bond purchases surpassed analyst expectations, boosting optimism that its stimulus package will support prices.
The ECB held 348 million euros ($392 million) of corporate debt on June 10, two days after the program started, according to an update released on Monday. That surpassed Commerzbank AG's maximum estimate of 210 million euros and ABN Amro Bank NV's forecast for as much as 250 million euros.
"This is a very promising start," said Hyung-Ja de Zeeuw, a senior credit strategist at ABN Amro. "It's much higher than the market anticipated. Draghi didn't want to disappoint."
Investors rushed into investment-grade corporate bonds after the ECB announced plans to enter the market, helping drive down borrowing costs to less than 1 percent for highly rated borrowers. The central bank has added corporate debt to an 80-billion euro monthly asset-purchase program as it seeks to revive inflation and investment in the euro area.
"It looks like the purchases are starting with a bang, but they won't necessarily continue that way," said Marco Stoeckle, a credit strategist at Commerzbank in Frankfurt. "We think that longer term, the ECB would struggle to keep up this pace."
Keeping Pace
Maintaining the same rate would result in about 7 billion euros of corporate-bond purchases a month, said Guy Stear, a credit analyst at Societe Generale SA in Paris. That's at the top end of the French bank's forecast and above the market consensus of no more than 5 billion euros, he said.
The ECB hasn't said how much it will spend on corporate bonds under the program, which also includes buying covered bonds, asset-backed securities and sovereign debt. It will produce an update every Monday and national central banks, which will make purchases for the ECB, will start publishing their holdings on July 18.
The first report "effectively" only covers secondary-market purchases made on June 8, the first day of the ECB program, because of the time needed to settle transactions, the Frankfurt-based institution said. A spokesman declined to comment on whether the tally included bonds bought previously under different programs. Bonds from some state-backed companies, including Italian utilities Enel SpA and Snam SpA, have been reclassified so they are eligible for the corporate program rather than a government-debt plan.
Telecom Italia
The ECB's first corporate-bond purchases included notes issued by Telecom Italia SpA, which has junk grades at two of three credit-rating providers, as well as debt from troubled carmaker Volkswagen AG, Siemens AG and Anheuser-Busch InBev NV, according to people familiar with the matter. The central bank also probably bought new bonds sold by U.S. food processor Bunge Ltd., ABN Amro's de Zeeuw wrote in a note to clients.
The average yield for investment-grade corporate debt in euros has dropped to 0.96 percent, the lowest in more than a year, according to Bank of America Merrill Lynch index data. The ECB is buying bonds in the single currency issued by non-bank companies with an investment grade from at least one ratings provider.
Investors placed $2 billion into European investment-grade funds in the week to June 8, according to Bank of America Corp. strategists citing EPFR Global data. That was the 13th consecutive inflow, and the biggest in five weeks.
The ECB's first reported number was a "a huge amount," said Suki Mann, founder of bond-market commentator CreditMarketDaily.com. "I would be surprised if they kept this pace going. There would be serious consequences for the corporate-bond market if they did."
— With assistance by Charles Daly, Alessandro Speciale, Paul Gordon, and Sally Bakewell
Before it's here, it's on the Bloomberg Terminal.
LEARN MORE