ECB Says Oil-Price Slump Not the Global Boon It Might Have Been
by
Initial supply-driven price drop now reflects slowing activity

Windfall for net energy importers has been "rather limited"
Cheaper oil prices since 2014 have probably been of little net benefit to the global economy and may even have been a drag on growth, according to the European Central Bank.
"While most of the oil-price decline in 2014 could be explained by the significant increase in the supply of oil, more recently the lower price has reflected weaker global demand," the ECB said on Monday in an article from its Economic Bulletin. "Although the low oil price may still support domestic demand through rising real incomes in net oil-importing countries, it would not necessarily offset the broader effects of weaker global demand."
The analysis strikes at the ECB's debate over whether it should be adding monetary stimulus to the euro-area economy as lower heating and fuel bills give consumers more spending power. President Mario Draghi has argued that as well as depressing inflation -- the ECB's main challenge -- a drop in energy prices can be a sign of subdued economic activity that needs to be countered.
"Assuming that, for example, 60 percent of the oil price decline since mid-2014 has been supply driven and the remainder demand driven, the models suggest that the combined impact of these two shocks on world activity would be close to zero, or even slightly negative," the ECB report showed.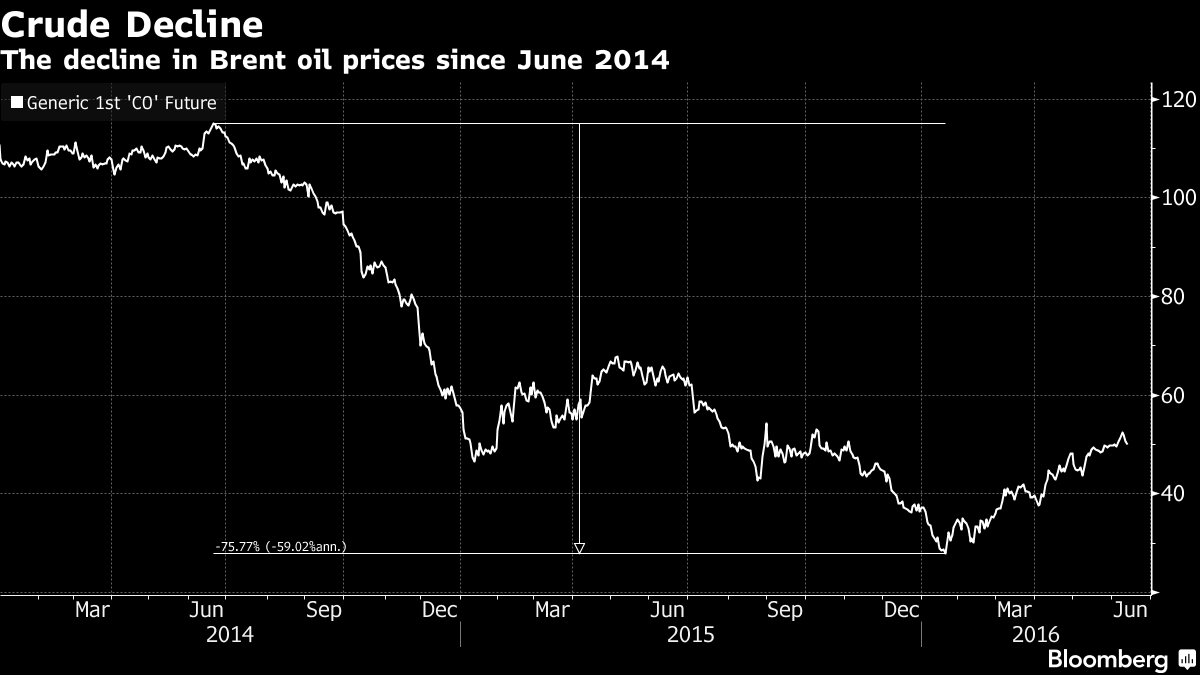 Brent crude dropped 76 percent from June 2014 to January 2016. That boosts disposable incomes in the euro area -- a net energy importer -- and so should spur the economic recovery.
The flipside on an international level is that many oil-exporting countries have experienced a "severe" downturn. In a period of subdued global demand, that has been accompanied by spillovers to other emerging economies, according to the ECB report.
Moreover, the windfall for oil-importing countries seems to have had a relatively limited impact.
"This could reflect lower energy intensities compared with earlier episodes of oil price declines in the 1980s and the 1990s," the report said. "In addition, expectations may have played a role: spending may build up only gradually if it takes time for households to believe that the lower oil price level will persist."
Before it's here, it's on the Bloomberg Terminal.
LEARN MORE