China's Economy Steadies Even as Investment Growth Slows
Bloomberg News
Industrial output climbs 6%, retail sales increase 10%

Fixed-asset investment rises 9.6%, missing analysts estimates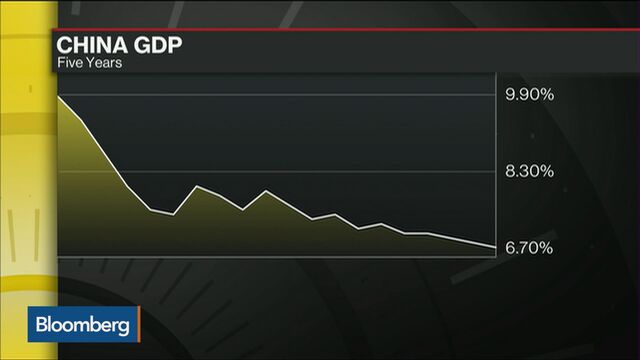 China's economy steadied in May as factory production held up and consumers and the government offered support against diminishing growth in private investment, which has been hurt by declines in old-line industries such as coal.
Bloomberg's monthly tracker for gross domestic product growth showed a 6.9 percent gain for May, little changed from April and comfortably within the leadership's annual target for 2016. The gauge, updated after monthly data Monday, had swung from around 6.3 percent in the first two months of the year to 7.1 percent in March, when a lending spree juiced growth.

Industrial production rose 6 percent from a year earlier in May, matching economists' estimates, National Bureau of Statistics data showed. Retail sales climbed 10 percent last month, while fixed-asset investment increased 9.6 percent in the first five months of 2016 -- missing all 38 economist forecasts and the slowest pace since 2000.
Combined with improving imports and moderating factory-gate deflation last month, the data suggest that policy makers have underpinned the near-term outlook with monetary stimulus and fiscal support, even as restructuring initiatives in some industries start to bite.
'Remains Challenging'
"Private investment growth continues to fall, but overall it is being offset by public investment," Hao Hong, chief China strategist at Bocom International Holdings Co. "The overall economic environment remains challenging."
For a look at Bloomberg Intelligence's take on the reports, click here.
The data deluge contained a mixed bag of news, leaving little impetus for any swings in the yuan or Australian dollar in Monday trading. The Shanghai Composite Index was 1.7 percent lower as of 2:26 p.m. local time.
Among the positives, the surveyed unemployment rate edged lower in May, with 1.34 million jobs added in urban areas in the month, taking new jobs created in 2016 to 5.77 million. On the negative side, private fixed-asset investment slowed to 3.9 percent for the year to date.
Policy makers' efforts to cool the property market took some steam out of that sector, with new-home sales growth slowing. Property investment growth, which in December hit a 15-year low, clocked a 7 percent pace for the first five months of the year, slightly weaker than the 7.2 percent rate for the first four months.
The slowdown in fixed-asset investment in May was mostly due to declining coal and ferrous metals investment by privately owned enterprises, said Iris Pang, senior economist for Greater China at Natixis SA in Hong Kong.
Excess Capacity
"This is a reflection of high excess capacity in those sectors," she said. "POEs are staying away from investments. However, the overall FAI shows SOEs are supporting the overall economy," she said, using abbreviations for private- and state-owned enterprises.

That dependence leaves the official growth target for at least a 6.5 percent expansion in 2016 still hinging upon government spending on signature projects like shanty-town development and improving the drainage systems of its cities. It's an unwelcome reliance for China's leaders, who have recently signaled a desire to rein in debt-fueled stimulus.
Fiscal data released Monday reflected that balancing act, with revenue and spending equally matched in May.
"The main risk here is how to stabilize private investment to curb the downside risk," said Ding Shuang, head of greater China economic research at Standard Chartered Plc in Hong Kong. "If they want to achieve the growth target in the short run, the only solution could be more public spending because private investment cannot be boosted right away."
— With assistance by Xiaoqing Pi, and Enda Curran
Before it's here, it's on the Bloomberg Terminal.
LEARN MORE