Call on Rajan Term Extension at RBI Said Planned for August
by
No panel set up to shortlist candidates, official says

Modi, Jaitley to decide on extension for Rajan, official says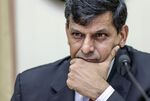 The decision on whether to appoint Reserve Bank of India Governor Raghuram Rajan for a second term probably won't be made until August, according to a senior government official.
At this point, no panel has been set up to consider candidates for the term as RBI chief that would start in September, when Rajan's current tenure is set to end, according to the official, who asked not to be named due to lack of authorization to speak publicly. Prime Minister Narendra Modi and Finance Minister Arun Jaitley will make the decision on whether to keep Rajan or name a new governor, the person said.
A newspaper report published Saturday had said a committee had been tasked with the RBI succession matter -- in a departure from standard practice. While a separate recent newspaper article claimed Rajan had told the government he didn't want to stay on, the governor himself said last week that a decision would be reached after discussions with the administration. He didn't rule himself out for an extension, and urged the media to watch the statements from Modi and Jaitley.
The Prime Minister's Office declined to comment and two calls to the mobile phone of Finance Ministry spokesman D.S. Malik were unanswered on Monday.
The question of Rajan's future has been a key one for financial market participants, who have viewed the governor as deepening the credibility of India's central bank and helping manage the risks from global turmoil that have buffeted the rupee.
To read more about Rajan's most recent public remarks on the succession issue, click here.
There's a 50 percent probability that Rajan's term won't be extended, Ritika Mankar Mukherjee, an analyst at Ambit Capital Pvt. wrote in a report published Monday. Urjit Patel, Rajan's deputy at the central bank who's in charge of monetary policy, appears to be the best option as replacement, she said.
Before it's here, it's on the Bloomberg Terminal.
LEARN MORE