Brexit Jitters Ripple After 'Yoda' Moves Pound by Divining Poll
By
Pound gyrates with less than two weeks to go before referndum

Tweets, stale survey results have traders on edge before vote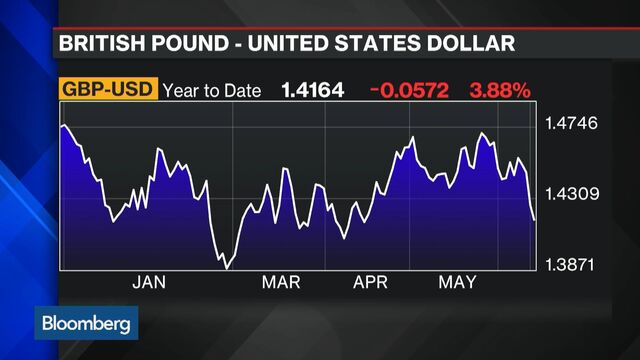 Call it a Jedi mind trick.
Market jitters over next week's referendum on the U.K.'s membership in the European Union reached an absurd peak earlier today after a tweet from a user going by the name of Yoda managed to briefly move the pound by correctly reporting the results of what up until then had been an unreported survey by ICM.
Projecting the Force from the handle @JediEconomist, the erstwhile Jedi Grand Master had the Leave camp in the lead, sending the currency downward as much as 0.4 percent before it recovered.
Shortly afterward, "Yoda" called on followers to "Vote #Leave you must, yessss."
Hours earlier, pollster ICM's website had crashed under the weight of interest in the promised new survey, and a separate incident when an out-of-date poll was accidentally shared on Twitter -- sending the pound sharply upward.
Sterling swung between losses of 1 percent and gains of 0.5 percent during the day before resuming declines after the official ICM poll was released. The pound fell 0.2 percent to $1.4229 as of 5:56 p.m. London time, after earlier touching $1.4116, the lowest since April 14.
ICM's survey was finally published just before 5:30 p.m. in London, showing a narrow lead for the Leave camp, at 50 percent. Remain's backers polled at 45 percent in the phone survey, with 5 percent undecided. A separate online poll by ICM put Leave in front with 49 percent, compared with 44 percent for Remain and 7 percent undecided.
The figures matched the prognostication of @JediEconomist, so it turns out these were the numbers you were looking for.
Monday's confusion showed how the combustive combination of a neck-and-neck race, unreliable polling and the wilds of social media are stoking market volatility, putting traders on edge. The Leave campaign has a narrow lead in most surveys, and the prospect of a British departure from the EU sent the pound to its lowest level since 2009 in February.
Though traders and political junkies are hungry for new information, even pollsters are urging caution about reading too much into survey results before the June 23 plebiscite. The U.K. has little experience with referendums, and a yearlong inquiry into pollsters' performance in the 2015 general election concluded there are no easy fixes for greater accuracy.