Born From Tsunami and Scandal, Line Heads for Biggest Tech IPO
by , , and
Japanese company seeks to add users across globe after IPO

Livedoor DNA helped Line to adapt to new business models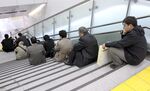 Line Corp., the Japanese messaging service that's planning this year's biggest tech IPO, was born in the aftermath of the massive earthquake and tsunami that shook Japan in March 2011.
After the tremors subsided, Tokyo's streets were filled with millions trying to get home after transportation services were shut down. Calls and text messages weren't going through, as telecommunication networks buckled under peak loads.
"You couldn't get through to anyone on the phone and SMS didn't work," said Kim Hyun Ju, a 33-year-old who works in real estate in Yokohama. "If I was going to die that day, I at least wanted to talk to my family one more time."
Kim found she could still reach people via KakaoTalk, a messaging app popular in South Korea. As friends guided her, she found her way home. Stories like this convinced Naver Corp., Line's South Korea-based parent, to speed up development of a new messaging service with help from employees it brought in from a scandal-ridden internet company. Three months later, Line debuted. It included a tool for users to share locations, and later added the ability to plug in other features such as games, comics, voice and video calling, as well as photo and video sharing.
"When the earthquake hit, people couldn't use their mobile phones, and in that environment, we decided that we needed to focus our efforts on building a messaging application," Chief Executive Officer Takeshi Idezawa said at a news conference last year. "We moved very fast."
That set Line on the path to become Japan's dominant messaging service. It's also No. 1 in Taiwan and Thailand, and is planning to push deeper into Southeast Asia and the Middle East, where Facebook Inc.'s WhatsApp and other rival services are popular. Idezawa is also mapping out a long-term expansion in the U.S., where Facebook's Messenger, Snapchat Inc. and other services are battling for users. After a two year delay that shaved 40 percent from its original target valuation, Line is now looking to raise as much as 113 billion yen ($1 billion) in an initial public offering.
"For apps like Line to really survive and thrive, they have to expand quite quickly," said Felim McGrath, a London-based trends manager at market researcher GlobalWebIndex. "There is a lot of competition going on to expand to the broader Asian markets like Malaysia, Indonesia, Vietnam -- places where a lot of new Internet users are just getting on board and getting smartphones for the very first time."

So far, Line has shown that it can be creative and adapt. Cute bunny and bear stickers attracted millions of users in its home market of Japan, providing a robust source of revenue. In Indonesia, Line built a classmate-connecting service after learning that alumni networks are a powerful social glue there. In Muslim countries, it rolled out special features for people observing the Ramadan fast. All told, Line now has 218 million monthly active users.
"Because of how we got our start, we have three core principles that we think of during development," Idezawa said. "First, to focus on smartphones; second, to focus on closed, or private communication; and three, to focus on emotional communication."
Line's sales grew 40 percent last year to 121 billion yen, with games, streaming music and comics accounting for 41 percent. The company had a net loss of 7.6 billion yen in the period, according to the filing. While it cited rising costs related to business expansion and higher payouts for smartphone settlement and royalties, it said content and advertising sales were solid.
Line's ability to quickly shift strategy was born in part from its tumultuous past. Before launching Japan's dominant messaging service, the company spent about a decade in relative obscurity, distributing online games and promoting Naver's search engine. In 2010, Line acquired Livedoor Inc., a once high-flying Japanese web portal that had fallen on hard times after its founder, Takafumi Horie, was thrown in jail for accounting fraud. After being delisted in 2006, Livedoor continued operations and was running a profitable web and blogging business by the time Line bought it for 6.3 billion yen.
The purchase added 30 million users, and more importantly brought in Livedoor's employees, including experienced executives like Idezawa, who was promoted to CEO last year. About a year after the acquisition, Line launched its messaging app and amassed 100 million registered users by January 2013.
Unlike WhatsApps's no-frills service, Line takes an approach that's more similar to WeChat's business model, which uses messaging as a backbone for e-commerce. This approach has earned the Japanese company the top spot in global smartphone revenue rankings last year, excluding games, according to market researcher App Annie. It ranked No. 7 as a games publisher.
"These guys have got the market in Japan locked down," said Amir Anvarzadeh, manager of Japanese equity sales at BGC Partners Inc. "Outside of its core markets, its going to be a massive challenge."
Line, which took two years to pull the trigger on an IPO after its initial filing, still has a lot of catching up to do. While Line had been aiming for a valuation of 1 trillion yen in 2014, it misjudged its timing and waited two years for the market to get better. It didn't and instead the company had to set its debut at a much lower 588 billion yen target valuation. Now, with a smaller financial warchest, Line will have to go up against rivals that have gotten much bigger.
"This is a business where the strong get stronger and you can't have meaningful development without capturing top share," Idezawa said in an interview last year. "Growing your user base is just not enough, you have to be number one in each country."
Facebook and Tencent Holdings Ltd. are far ahead in the U.S. and China, the world's two largest internet markets. WhatsApp and Messenger each count about a billion users and dominate through sheer numbers, while Tencent's WeChat has become intertwined with the daily lives of its 762 million users, offering everything from car bookings to restaurant payments.
"In Asia, in particular, certain kingdoms have been mapped out -- Line in Japan, Kakao in South Korea and WeChat in China," said McGrath of GlobalWebIndex. "Because of the looming presence of Facebook's Messenger and WhatsApp, there is certainly a need for apps like Line, which is really popular in certain markets, to expand as fast as possible and stake a claim in other countries."
Before it's here, it's on the Bloomberg Terminal.
LEARN MORE