Baidu Reduces Revenue Forecast on Advertising Restrictions
by and
Rules follow death of student who used results to treat health

Search provider cuts back on display of sponsored results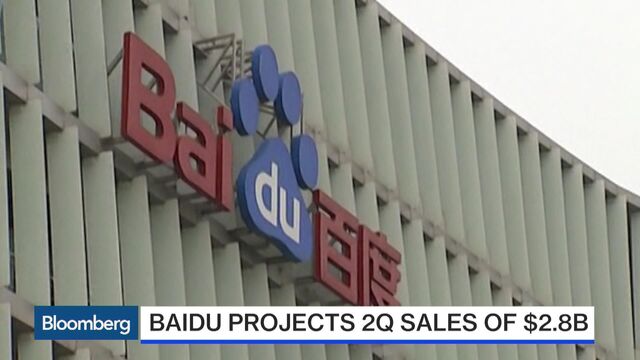 Baidu Inc., China's biggest internet search engine, cut its revenue forecast for the second quarter, saying regulatory restrictions reduced advertising from drug companies and other health-care groups. Shares declined as much as 8.9 percent in extended trading after the announcement.
Sales are projected at 18.1 billion yuan ($2.81 billion) to 18.2 billion yuan compared with its previous forecast of 20.1 billion to 20.6 billion yuan. New regulations on online marketing by health-care companies have caused a reduction or delay in ads from a significant portion of medical customers, Baidu said in a statement Monday.
Baidu cut back sponsored links in the wake of outrage in China over the death of a student who had sought out a controversial treatment advertised among search results. While these actions will have a negative impact in the short term, the Beijing-based search operator expects users to become accustomed to the changes and health-care advertising will eventually recover.
"It will take time to rebuild their reputation with users," said Ricky Lai, a Hong Kong-based analyst at Guotai Junan International Holdings Ltd. "It hurts Baidu's power and marketing space."
Baidu announced last month that it will restrict the number of sponsored posts to 30 percent of a results page, and establish a 1 billion yuan fund to fight fraud after the death of Wei Zexi, a 21-year-old computer science student. Cyberspace Administration of China said that Baidu's search results misled users and the company must make it clear when posts have been paid for. Baidu was also told to review its medical advertising to clear up those that don't comply with new standards.
"Baidu provides a strong, unique value proposition to its users and customers by helping users find whatever it is they are looking for, and connecting online marketers with those users," Robin Li, Baidu's chairman and chief executive officer said in the statement. "Although a significant portion of our revenue is sacrificed, the steps we have taken to further bolster a healthy, safe and trustworthy online and offline ecosystem will result in long term benefit and reward for Baidu."
(An earlier version of this story corrected the company's name.)
Before it's here, it's on the Bloomberg Terminal.
LEARN MORE