Apple Redesigns Music Streaming App, Has 15 Million Paid Subs
by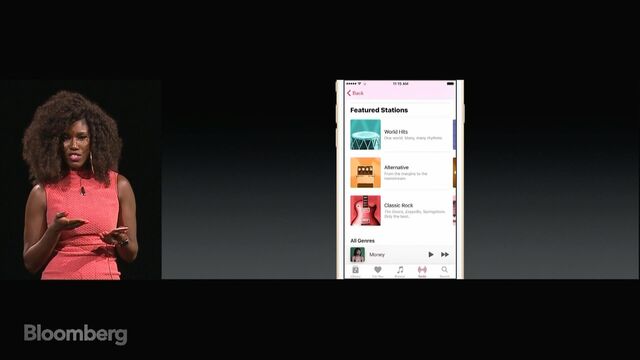 Apple Inc. introduced a revised version of its music streaming service aimed at making it easier to use.
Tabs along the bottom of the new Music app have been changed to improve navigation, services chief Eddy Cue said Monday at the Apple Worldwide Developers Conference in San Francisco. The "New" tab, which publicized new releases, and a "Connect" tab, where artists could post comments and videos, have been relegated from the main screen to make it easier to find music according to its genre. The browsing function will show fewer album covers and songs than the first iteration of the service.
Since it was unveiled at last year's developer conference, Apple Music has been plagued by slow adoption rates, lukewarm critical reception and executive departures. Neither Jimmy Iovine nor Trent Reznor, two executives who joined Apple when it acquired Beats Electronics Inc. in 2014, were featured in the product presentation Monday.
A consumer shift toward music streaming from Spotify Ltd. and Pandora Media Inc. poses a threat to Apple's $3.5 billion iTunes song-download business. 
Apple said Monday that its music-streaming service has more than 15 million paid subscribers, up from 13 million at the end of March. That compares with Spotify's 30 million paying customers and Pandora's 3.9 million subscribers at the end of 2015.
Before it's here, it's on the Bloomberg Terminal.
LEARN MORE