Angry Backlash as Brexit Campaigners Exploit Orlando Massacre
by
Leave.EU condemned as 'shameful and cowardly' over poster

Claim that immigration could lead to a similar attack in U.K.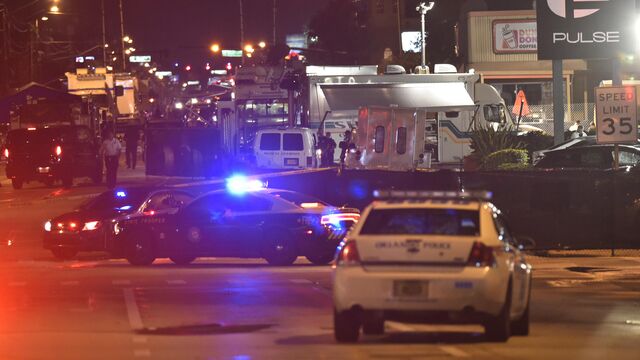 Campaigners for a vote to leave the European Union were condemned as "shameful and cowardly" by the 'Remain' camp on Monday after they used the massacre in an Orlando gay club to push for a British vote to leave the bloc.
Leave.EU, one of several groups pushing for a so-called Brexit, posted a picture on its Twitter feed of Islamic State militants with "Islamist extremism is a real threat to our way of life. Act now before we see an Orlando-style atrocity here before too long," written across it in capital letters.
Shooting suspect Omar Mateen, a U.S. citizen of Afghan descent, killed 50 people with an assault weapon at the gay dance club in Orlando, Florida, early Sunday. He dialed 9-1-1 as he began the assault to claim allegiance to Islamic State. 
"This is a shameful and cowardly poster," Hilary Benn, foreign affairs spokesman for the opposition Labour Party, said in an e-mail. "It takes courage to stand by your principles and your friends when they are attacked, whether in Orlando, Paris or Brussels."
The post also prompted an angry response on Twitter, with Education Secretary Nicky Morgan calling it "shameful."
"Your constant lying is bad enough but this is despicable, a new low even by your gutter standards," tweeted Peter Coles, an astrophysicist at Sussex University whose Twitter picture includes the banner "Scientists for EU.U.K." Another Twitter user, Richard Lindsay, described the post as "utterly repugnant," while Illustrated Lawyer tweeted: "This is simply abhorrent and should be removed immediately."
Leave campaigners, who have made immigration the centerpiece of their drive to leave the EU, have repeatedly accused the 'Remain' camp of scaremongering, dubbing Prime Minister David Cameron's repeated warnings of damage to Britain's economy if it leaves "Project Fear."
Before it's here, it's on the Bloomberg Terminal.
LEARN MORE