Allianz Buys U.K. Stocks That Brexit Worries Make Attractive
by
Company fundamentals seen the same regardless of outcome

FTSE 100 value at lowest since January versus global stocks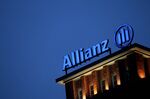 The volatility wrought by the U.K.'s coming vote on European Union membership is something to be embraced. 
QuickTake Will Britain Leave the EU?
So says Allianz Global Investors' Harald Sporleder. He is betting the shares, which have outperformed their European peers this year, will keep rewarding investors, and sees the uncertainty surrounding the outcome of the June 23 referendum as an opportunity to boost his holdings. Even if the "Leave" campaign wins -- a result forecast to trigger stock volatility -- company fundamentals will remain the same, he said. While the FTSE 100 Index is down 3.4 percent so far this month, the Stoxx Europe 600 Index has declined almost twice as much.
"We're adding U.K. stocks ahead of the referendum, focusing on large caps," Sporleder, who oversees five European equity funds worth a total $2 billion, said in a June 8 interview in Madrid. "Let's assume they want to leave. That will be a disaster for U.K. and European markets in general over a couple of days. We would like to use this heightened volatility as an opportunity to buy stocks" as they reach a bottom.

With nine days to go until Britons vote, polls show the race is too close to call. Until last week, U.K. shares remained relatively calm even as top officials from Bank of England Governor Mark Carney to Prime Minister David Cameron warned of the economic damage that an exit would cause. A gauge of volatility on the FTSE 100 yesterday capped its biggest three-day gain in six months. European equities could lose about a quarter of their value in the immediate aftermath of a U.K. secession, a study from risk-modeling firm Axioma Inc. showed.
The probability of the U.K. remaining is still more than 69 percent, according to Oddschecker and Number Cruncher data, while recent polls by ICM, ORB/Independent and YouGov Plc showed the "Leave" campaign leading.
Read about what a Brexit scenario could look like.
Still, when the dust settles after the vote, Sporleder believes he will have snapped up quality stocks that fell to attractive levels amid the uncertainty surrounding a possible Brexit. He declined to specify which companies he's buying. His $1.1 billion Allianz Discovery Europe Strategy fund has beaten 75 percent of peers in the past month.
Allianz Global Investors, one of the two asset managers owned by Allianz SE, Europe's biggest insurer, isn't alone in favoring British stocks. JPMorgan Chase & Co. said in a report yesterday that it's staying overweight on U.K. equities as they appear under-owned and are trading "outright cheap" because of their poor performance in previous years. The FTSE 100 is valued at 15.1 times projected earnings. While that compares with 14.3 for the Stoxx 600, it's near the lowest since January relative to global stocks.
Separately, Sporleder said he's long European financial companies as he expects regulation to relax and allow lower cash buffers, which could lead to extra cash for shareholders. He's short consumer-staples firms because he says their prices are too expensive given economic growth rates.
Before it's here, it's on the Bloomberg Terminal.
LEARN MORE