A Day in Europe's Bond Market is Like a Month for Asset-Backed Debt
by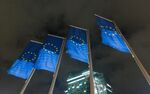 In keeping with its politics, Europe has a two-tier credit market.
Corporate bonds, unsecured debt sold by companies, are preferred to asset-backed securities where investors buy notes secured by collateral from mortgages to car loans. At least that's the message given today by the European Central Bank.
The ECB disclosed it now holds 348 million euros ($392 million) of corporate bonds in its first indication of its appetite for company debt. Due to settlement times in the bond market the data effectively only covers its first day of buying (June 8).
By contrast, it's past four weekly purchases of ABS total just slightly less at 340 million euros.
(The ECB's ABS program has been bogged down by bureaucracy and paperwork, as the central bank made a point of treading careful in an asset class blamed for causing the financial crisis. Investors that read Mario Draghi's endorsement of securitized debt as a signal for large-scale purchases were underwhelmed)

With its corporate debt program, or CSPP, the ECB has by contrast already surpassed expectations. The trick will be sustaining it.
Before it's here, it's on the Bloomberg Terminal.
LEARN MORE