Pistorius Called 'Broken' on First Day of Murder Sentencing
by
Supreme Court of Appeal overturned manslaughter conviction

Paralympic medalist could get up to 15 years for murder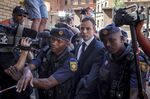 Oscar Pistorius is "broken" and needs to be hospitalized, a psychologist said on the first day of a hearing on his sentence for murdering his model girlfriend Reeva Steenkamp, while the South African prosecutor described him as verbally violent and aggressive.
The contrasting views were aired in the High Court in Pretoria, South Africa's capital, where the Paralympic gold medalist will learn whether he must return to prison. Judge Thokozile Masipa is scheduled to hand down a sentence by Friday that may be as long as 15 years. Pistorius greeted security guards and his lawyer Barry Roux as he arrived in the same wood-paneled courtroom as his 10-month trial in 2014. June and Barry Steenkamp, Reeva's parents, watched from the public gallery.
Criminal psychologist Jonathan Scholtz, testifying for the defense, said double-amputee Pistorius was traumatized and presented a low risk of committing violence in the future.
"In layman terms, one would describe him as broken," he said. "His current condition warrants hospitalization."
Prosecutor Gerrie Nel argued with Scholtz, saying, "I find your answers to be totally biased toward the accused. They are not objective."
Masipa originally convicted Pistorius of manslaughter for shooting Steenkamp on Valentine's Day in 2013 with four hollow-point bullets through a locked toilet door. In December, the Supreme Court of Appeal ruled that he was guilty of murder, citing "errors of law" in the first verdict. The sentencing hearing continues on Tuesday.
"Her hand has been twisted in the sense that the Supreme Court has said to her, 'Well you were wrong in giving him a sentence on culpable homicide,"' Marius du Toit, a criminal-defense lawyer at Du Toit Attorneys, said by phone. "There's nothing that justifies a sentence of more than 15 years. I would think that the court might give him 10 years."
Known as the Blade Runner because of his J-shaped prosthetic blades, Pistorius, 29, was granted 10,000-rand ($657) bail and ordered to remain under house arrest after the Supreme Court imposed the murder conviction in Dec. 3. He's been serving part of his previous five-year sentence for culpable homicide at his uncle's home.
Murder Conviction
While Pistorius said he shot Steenkamp in the belief she was an intruder, the Supreme Court decided that he must have known the bullets would have killed whomever was behind the door. The Constitutional Court ruled on March 3 that Pistorius couldn't appeal the murder conviction.
Since the shooting, Pistorius lost sponsorship deals with companies including Nike Inc., Luxottica Group SpA's Oakley and Ossur hf.
Pistorius won six Paralympic gold medals and was the first double-amputee runner to compete at the Olympic Games. He was born without fibula in both legs, which were amputated when he was 11 months old.
Before it's here, it's on the Bloomberg Terminal.
LEARN MORE