G4S Under Scrutiny After Employing Orlando Killer Since 2007
by and
U.K.-based firm says it was made aware of FBI probe in 2013

Company was one of largest U.S. federal contractors post-9/11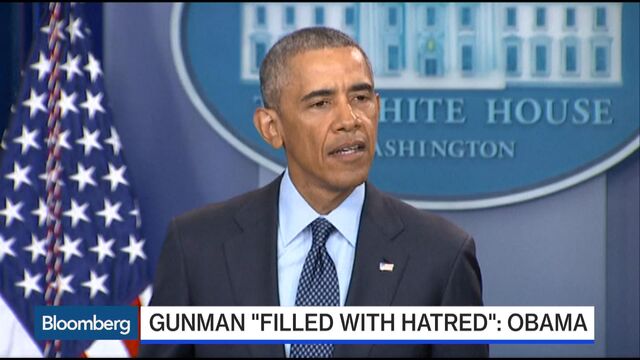 G4S Plc's approach to the vetting of its security personnel is under scrutiny after it emerged that Florida nightclub killer Omar Mateen had been employed by the world's biggest guarding company for almost a decade.
Mateen, who declared his allegiance to terror group Islamic State in the hours before the largest mass shooting in U.S. history, had been working at a gated retirement community prior to the deaths in Orlando, G4S confirmed Monday, sending its stock tumbling to the lowest intraday price since March 2009.
The Federal Bureau of Investigation had studied Mateen twice, each time dropping its enquiries, according to an agency spokesman. U.K.-based G4S said it had learned of the FBI's interest in 2013 but was unaware of any further probe, adding that the 29-year-old had cleared its own internal processes.
"Mateen underwent company screening and background checks when he was recruited in 2007 and the check revealed nothing of concern," G4S said. "His screening was repeated in 2013 with no findings. We were not made aware of any alleged connections between Mateen and terrorist activities."

The shooter, who died in a gun battle with police after killing 49 people and wounding 53 at the gay dance venue Sunday, was given a psychometric test called the Minnesota Multiphasic Personality Inventory before being hired, G4S said. Neither was anything revealed by checks before his employment and after the FBI's investigation covering 10 areas including his identification documents, employment history, references, right to work and criminal record.
The FBI put Mateen on a government watch list for a time after co-workers at a local courthouse where he was assigned as a guard said in 2013 that he made remarks indicating terrorist leanings, FBI Director James Comey told reporters in Washington Monday. Comey said he couldn't recall how much contact the agents had directly with G4S.
About 15 percent of G4S's U.S.-based workers are re-screened each year according to standard practice, the company said. As an "armed security official" Mateen was also required to carry a weapon and received a license from the State of Florida, which makes its own evaluation of an applicant's personal history, and underwent several hours of firearms training, it said.
The gunman, a U.S. citizen, used an assault rifle and a Glock GmbH handgun in the shootings, neither of which are issued to G4S guards, the company said.
'Shocked'
G4S, whose clients in more than 100 countries include the U.S. government, said it's cooperating with the FBI investigation of the Florida massacre.
"We are shocked and saddened by the tragic event that occurred at the Orlando nightclub," John Kenning, the company's chief executive officer for North America, said in a statement. "Our thoughts and prayers are with all of the friends, families and people affected by this unspeakable tragedy."
Shares of G4S fell as much as 8.1 percent when trading began Monday. The stock had already declined 34 percent in 12 months, dropping the most in three years on March 9 after a wave of migrants to the U.K. led to increased losses on a contract to house asylum seekers.
The hiring of Mateen came two-years before a G4S employee shot and killed two colleagues when stationed in Iraq on a private security detail in 2009. A U.K. inquest into the incident last year found the company hadn't conducted proper vetting procedures at the time, failing to check on his criminal record.
Olympics Debacle
G4S also failed to supply enough security guards for the 2012 Olympics in London, forcing the government to deploy members of the armed services in order to make up the numbers and prompting the company's then CEO to admit that its reputation was "in tatters."
The Crawley, England-based company later took a financial hit over claims that it overcharged authorities for electronic tagging of criminals. More recently, it suspended seven staff at a juvenile correctional facility after allegations that guards used excessive force and one child was stabbed with a fork.
G4S was consistently one of the biggest contractors with the U.S. federal government after the Sept. 11, 2001, terrorist attacks, mostly with the departments of Homeland Security and State, according to Kevin Brancato, an analyst with Bloomberg Government.  The firm's deals with the government shrank to $89.3 million in 2015, according to data compiled by Bloomberg.
The company employs 611,000 people worldwide, running prisons, providing security at airports and ports, and managing cash transports, according to its website. Its U.S. headquarters are in Jupiter, Florida, about 150 miles southeast of Orlando.

"They are a considerably smaller player in the federal space than they used to be," Brancato said.
Born in New York to Afghan parents, Mateen was licensed as a security guard in Florida, according to state records. Mateen was married in 2009 and divorced in 2011, a woman who identified herself as Mateen's ex-wife told the Washington Post on the condition that her name not be used.
G4S stock closed 5 percent lower at 178 pence in London, reducing the company's market value to 2.76 billion pounds ($3.9 billion).
Before it's here, it's on the Bloomberg Terminal.
LEARN MORE