Ex-Taiwan President Criticizes Tsai Over Blocked Hong Kong Trip
by
Ma calls decision to deny travel disrespectful, unpersuasive

New leader cites national security concerns in blocking visit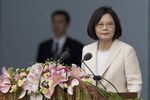 Former Taiwanese president Ma Ying-jeou called disrespectful and unpersuasive the decision by successor Tsai Ing-wen to block him from visiting Hong Kong this week.
Ma said the move by Tsai's office -- where it cited security concerns -- risked tarnishing Taiwan's reputation for freedom and democracy, the island's Central News Agency reported, citing a statement from his office.
The one-time Kuomintang leader, who retired last month after two terms as president, was due to speak Wednesday at the Society of Publishers in Asia's awards gala in Hong Kong. Ma will now address the group via video.
His application was the first denied for a former president under the Classified National Security Information Protection Act of 2003, which restricts the travel of former top officials for up to three years after they leave office, CNA said. Tsai's office said it rejected Ma's request because Hong Kong was a "highly sensitive region." More time was needed to assess what information Ma had and how to secure such a trip, it said.
Hong Kong returned to Chinese rule in 1997, though the former British colony has guaranteed freedoms of expression and controls its own legal and immigration systems. The trip would've made Ma, 65, who was born in Hong Kong, the most senior Taiwanese figure to visit since the Chinese civil war ended in 1949.
While Taiwan and mainland China remain military rivals, ties improved during Ma's time in office. In November he shook hands with Chinese president Xi Jinping in Singapore, the first face-to-face encounter between leaders of the former foes in almost 70 years. 
Tsai took office May 20, after her Democratic Progressive Party secured control of both the presidency and the legislature for the first time with a landslide election win in January.
Before it's here, it's on the Bloomberg Terminal.
LEARN MORE