Merkel Presses China on Investment Rules as Li Says No Trade War
by
Trade talks amid German angst over China's bid for robot maker

Merkel chooses words to limit conflict on trip to Beijing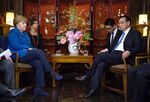 German Chancellor Angela Merkel and Chinese Prime Minister Li Keqiang sought to limit conflict over trade during talks overshadowed by angst in Germany about a Chinese company's 4.6 billion-euro ($5.2 billion) bid for robot maker Kuka AG.
"We don't want a trade war," Li told reporters in Beijing on Monday after the two leaders presided over the signing of business deals valued at about 2.7 billion euros ($3 billion), including agreements between Daimler AG and BAIC Motor Corporation Ltd. as well as Airbus Group SE's German helicopter unit and China Aviation Supplies Holding Co.
Merkel, making her ninth trip to China in a decade as chancellor, pressed for transparent and reliable rules for foreign investors, while assuring Li that the European Union is "working on a solution" for China's demand to be granted so-called market economy status. "I don't think it's good to make this whole thing too emotional," she said at a joint news conference.
Merkel, accompanied on the trip by 20 chief executive officers, is avoiding explicit mention of Kuka even as she faces domestic pressure to protect the company, which she views as a model for combining digital technology and German industrial strength. Concern over the deal contrasts with the celebrations of German-Chinese trade ties in previous years as the relationship between the two economies turns more competitive and China seeks to make more sophisticated products of its own.

Government officials in Berlin have met Kuka CEO Till Reuter to discuss alternative bids after last month's offer by Midea Group Co., according to a person familiar with the chancellery's views on the case. Merkel and Siemens AG CEO Joe Kaeser have discussed Kuka in recent days, according to a second person. Kaeser, who was with Merkel on the trip, told reporters in Beijing that Siemens isn't interested.
Wakeup Call
"China and Germany are like-minded countries, both focusing very much on manufacturing," said Hans Kundnani, a fellow at the German Marshall Fund in Berlin. "They've increasingly become competitors in similar, high-end production areas."
The gambit by Midea, China's biggest maker of home appliances, for Kuka, a supplier of industrial robots, is exposing concern in Berlin about the longer-term intentions of state-backed Chinese investors. While Germany wants to avoid a trade war with China, the episode is a wakeup call that adds weight to Merkel's demands for China to level the playing field for foreign investors or risk investment restrictions in Europe, according to the person familiar with the matter, who asked not to be identified discussing private talks.
Kuka, based in the Bavarian city of Augsburg, supplies automation equipment to companies such as Airbus, Volkswagen AG and Fiat Chrysler Automobiles NV. Merkel visited the company's headquarters last year and toured its robot display at Germany's Hanover industrial show with President Barack Obama in April.
Kuka and China's shift to consumer-led economy: Bloomberg Intelligence
Linked by $164 billion in commerce, China is Germany's fourth-biggest trading partner and Germany is China's fifth-biggest. Merkel's three-day trip in Beijing and Shenyang includes a joint cabinet meeting and talks with Chinese President Xi Jinping and Li.
As Chinese economic growth flags at home, its companies are more aggressively expanding overseas with government encouragement and an eye toward long-term investment strategies. Midea has said its offer for the robot maker was in the "best interests" of its employees and shareholders.
'Normal' Globalization
While Merkel said she didn't "directly" raise Kuka during an initial meeting with Li on Sunday, she said she discussed investment matters and an EU probe into whether Chinese steel exporters are benefiting from market-distorting government aid.
"It's always about the question of reciprocity of investment conditions," she told reporters. "We talked about that."
German business groups say they're taking the Chinese challenge in stride. The Federation of German Industries, representing about 100,000 companies with 8 million workers, says fears of job and technology losses are often unfounded.
"Globalization isn't a one-way street, it also impacts us at home," Kaeser said in Beijing. "That's a completely normal development."
Before it's here, it's on the Bloomberg Terminal.
LEARN MORE