Guindos Talks Over Everyone as Spain Rivals Query His Facts
by
Election debate unleashes clashes over economic policy outlook

People's Party argues growth will create jobs, reduce deficit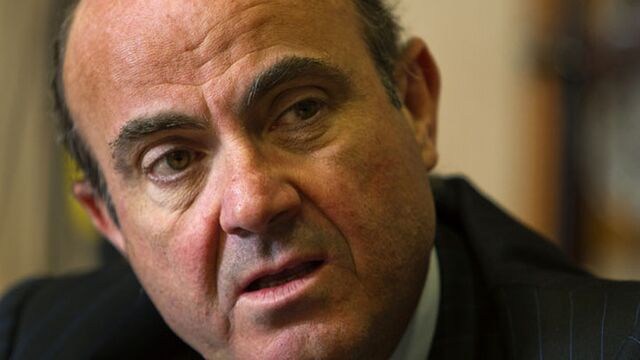 Acting Economy Minister Luis de Guindos tried to drown out his opponents in a bad-tempered television debate Sunday night by ramming home his message that Spain needs more-of-the-same economic policy after this month's election.
Guindos defended the People's Party record in turning around the economy after the financial crisis and targeted 500,000 new jobs a year over the next legislature. His rivals in the economic-policy debate hosted by broadcaster laSexta argued that Spain should aim for more than just low-cost export work and challenged his account of the PP's achievements.
With facts and counter-facts flying across the studio, Guindos denied that his government cut social spending, ruled out a fine for Spain for breaching European Union deficit rules and even the moderator's claim that the bulk of new jobs were only temporary contracts. Spain's unemployment rate of 21 percent, the second-highest in the euro zone after Greece, means that the economy is a key battleground in elections on June 26 after a vote held in December failed to produce a clear winner.
"You're going to have a big shock when you lose your ministerial car and have to step into the street, because you'll find a different country from the one you're describing," Socialist economic-policy chief Jordi Sevilla told de Guindos.

With an hour of the debate gone, Guindos had spoken for five minutes more than his second-most-vocal opponent, according to a running tally in the studio.
"This country under the PP's leadership has achieved the most significant turnaround in recent economic history," Guindos said. "From being the global economy's main concern, to the leader of economic growth in the euro zone, creating half of all new jobs with a solid banking system and a reduced budget deficit."
Rival Proposals
Alberto Garzon of Unidos Podemos, the anti-establishment party running second in the polls, called for a program of public investment to raise Spanish industry to the level of Germany's. Sevilla said his party's first move would be a barrage of measures to help the worst off. Luis Garicano, from pro-market Ciudadanos, said Spain needs to beef up its education system to join the world's leading economies.
On Monday night, it's the turn of the four party leaders to debate in the centerpiece of the campaign.
Guindos argued that the PP would sustain job creation by cutting income tax and social security contributions.
"It's irresponsible," Sevilla said. "The last tax cut cost us a fine from the EU."
"There's not going to be any fine," Guindos said, talking over his adversary.
Neither is quite true. The European Commission has postponed its decision on whether to recommend a fine for the Spanish government until July to avoid interfering with the election campaign.
Missed Targets
The country has missed its EU-set deficit targets every year since caretaker Prime Minister Mariano Rajoy took power in 2011, though the budget shortfall has roughly halved over that period.
Garicano of Ciudadanos pulled out a letter Rajoy sent to the commission promising "new measures" to stabilize the budget after the election, accusing Guindos of duplicity for his promises of lower taxes.
Garzon faced questions from Sevilla over whether he thought Spain should leave the euro as he tried to straddle the different economic philosophies within the Unidos Podemos alliance.
Sevilla produced a policy statement arguing that Spain should pull out of the euro from one faction that Garzon had previously endorsed. Garzon ducked the question twice.
"We still don't know whether Mr. Garzon wants to take us out of the euro or not," Sevilla complained.
Time and again the debate returned to the issue of unemployment and job creation. While de Guindos pointed to his government's achievements in cutting the number of unemployed by 1.5 million since 2013, his opponents claimed that it had only been done by cutting wages and stripping away protection for workers.
"That's your success?" Sevilla asked, waving his hands dismissively.
"Exports have replaced construction," de Guindos shot back.
"Yes, with Chinese-style working conditions," said Garzon.
Before it's here, it's on the Bloomberg Terminal.
LEARN MORE