Carney Plans for Worst as Britons Fret Over European Destiny
by and
Bank of England Governor preparing to shore up stability

First additional BOE liquidity operation due on Tuesday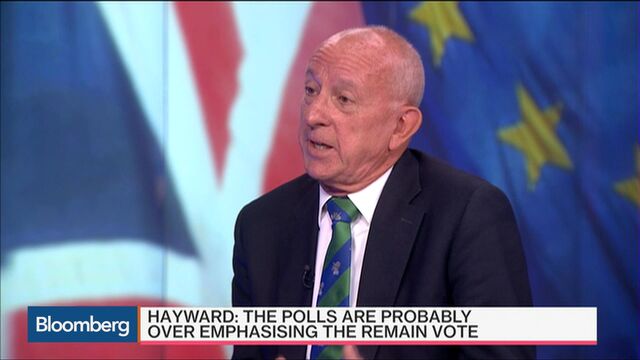 As the U.K. agonizes over its relationship with Europe, the Bank of England is readying for turmoil.
Brexit Watch: The pound, the polls, and the probability of Brexit, all in one place
With just 10 days before a referendum that could see Britain withdraw from the European Union, central bankers are putting the defenses in place to shore up market confidence and the financial system if that happens. Tuesday will see the first test of its work, with the start of a series of extra market operations to boost liquidity around the vote.
The culmination of more than a year of planning may see Governor Mark Carney face down a plethora of challenges from the potentially historic event. With volatility already spiking and the result set to be announced on a normal trading day, the immediate consequences of a Brexit victory could include capital flight, a sterling slump and a drying up of bank funding.
"I'd guess that there is some kind of special-purpose crisis committee chaired by the governor," said Tony Yates, a former BOE official who is now an economics professor at Birmingham University in England. "If it was me, I'd make sure that all resources were concentrated on business continuity and short-term financial stability issues."
Stability Risk
In the immediate aftermath of a decision to leave the world's largest single market, Carney is likely to find himself on the front line of the initial response. With the governor having already declared an exit vote is the biggest domestic risk to financial stability, the BOE has said it will monitor market developments and take action if needed.
QuickTake Will Britain Leave the EU?
The most visible reaction will probably come in the currency market, with economists predicting the pound could slide almost 10 percent to $1.30, a level last seen in 1985. Measures of implied volatility have surged and Carney has warned the currency may drop "sharply."
While most recent polls show the outcome of the referendum is too close to call, sterling slumped to an eight-week low against the dollar on Monday after one showed a 10 percentage-point lead for Britain to leave the EU. The pound fell for a fourth day, slipping to $1.4134 as of 10:15 a.m. London time, down 0.9 percent since Friday.
Reassuring Tone
Others have voiced concerns that there could be an immediate impact on the supply of wholesale funding to U.K. financial institutions if there was a Brexit. In that scenario, setting a reassuring tone and providing enough liquidity would form the initial response, according to former Deputy Governor John Gieve, who was in charge of financial stability at the BOE during the run on Northern Rock Plc in 2007.
Carney has already moved to head off some of the uncertainty with the early announcement of three additional market-wide indexed long-term repo operations. The extra auctions, in which the BOE offers banks funds in exchange for collateral, will be held on June 14, June 21 and June 28, and will be on top of its regular monthly operations.
If the vote was to leave, "initially they'll look to the liquidity side and make plain they'll supply all the liquidity the banks need," said Gieve. "I would be surprised if any of our big banks got into deep trouble as a result of Brexit, and I think the BOE would be surprised too."
Swap Facilities
If the turmoil is severe enough, officials also can also intervene in foreign-exchange markets and activate swap facilities with other central banks including the European Central Bank and Federal Reserve to help firms access overseas currency. ECB Governing Council member Ilmars Rimsevics said last week that his central bank is ready to offer euro liquidity via its existing agreements.
"I expect they are in constant contact," said former ECB President Jean-Claude Trichet, referring to major central banks. A Brexit scenario may be "very, very volatile," and Carney has "the most difficult job" over the coming week, he said.
After fending off the initial market shock, the BOE would face what Carney called a "challenging trade-off" between supporting growth and stabilizing inflation.
Emergency Meeting
Eighty five percent of 33 economists in a Bloomberg News survey said the economy would need further support in the event of a Brexit, with three quarters of those saying credit-easing measures should be used and 68 percent saying quantitative easing was an option. Sixty one percent said a rate cut might be in the offing.
"They have to say that they will have an emergency MPC meeting if there's a Leave vote," said Danny Blanchflower, a former BOE policy maker. "They're going to issue a statement saying they're ready to act, and they'll probably cut rates. What they're going to try to do is prevent a huge market shock on the day."
Alongside the market and economic volatility, the BOE may also have to cope with government instability. Prime Minister David Cameron and Chancellor of the Exchequer George Osborne have both tied their fates to the Remain campaign, raising the prospect of a change of leadership in the event of a vote to leave. 
Since Carney's been criticized by some prominent pro-Brexit lawmakers for being too close to the government position, his relationship with any new administration may be tense. Still, the governor could provide continuity and shore up stability through political storms.
"I think the bank has great credibility and whoever takes over will be eager to show that they're working effectively with the BOE," Gieve said. "So although there's been some talk of knives being out for Carney, I don't see that myself."
Before it's here, it's on the Bloomberg Terminal.
LEARN MORE