Cameron Relies on Labour in 10-Day Fight to Avert a Brexit
by and
Premier's archrival, Gordon Brown, to lead 'Remain' push

Undecided voters hold key in too-close-to-call referendum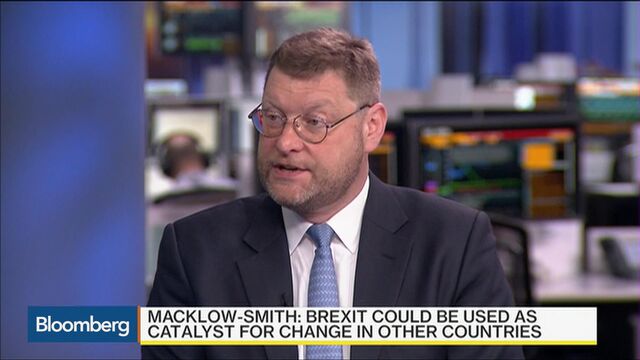 Prime Minister David Cameron turned to his traditional rivals in the opposition Labour Party to win over undecided voters with just 10 days to stop Britain from voting to leave the European Union.
Brexit Watch: The pound, the polls, and the probability of Brexit, all in one place
Gordon Brown, who was ousted by Cameron in 2010, will make the case to stay in the 28-nation bloc on Monday, and other media interventions have been moved aside to ensure the former premier's message is heard. The support of Labour voters will be crucial if the government is to avert a so-called Brexit in the June 23 referendum.
"When all the forces of Labour get together it's a very powerful voice in the country," Brown said Monday in a BBC radio interview. In a speech later in the day in Leicester, central England, he'll say "we will not rest and I will not stop explaining why nine million Labour voters have most to gain from remaining in the EU," according to extracts released by his office. A vote to remain "is stronger for jobs, for rights at work and maintaining a British voice on the world stage."

With most opinion polls showing the EU referendum too close to call, markets have been spooked by uncertainty over the outcome, compounded by a distrust of pollsters who failed to predict the result of last year's general election.
The pound and stocks sank on Monday amid investor anxiety over the Brexit vote. Sterling fell to its lowest level since April Friday after a poll showed a 10 point-lead for 'Leave.' In a sign of contagion, the debate in Britain helped fuel a global rush for the relative safety of bonds, with yields in Asia falling to to all-time lows.
Scots Referendum
The government is placing its faith in Brown having the same impact as he did in the run-up to the Scottish referendum two years ago. Then, he helped turn the tide against independence with an impassioned plea for Scots to stay in the U.K.
This time he's against a push for Brexit that has gained momentum as campaigners focus on immigration, suggesting the government's message on the economic risks isn't getting through to voters. The 'Leave' campaign was buttressed on Monday by a Migration Watch report that said if Britain remains in the EU, net migration will be more than a quarter of a million for 20 years, with 60 percent of it coming from the 28-nation bloc.
Cameron has responded by stepping up his rhetoric, last week accusing 'Leave' campaigners of lying and sanctioning personal attacks on anti-EU advocates, including former London Mayor Boris Johnson. Cameron wrote on Twitter that Energy Secretary Amber Rudd was "a star" after she had used a TV debate to accuse Johnson of being untrustworthy and only interested in his own ambitions.
"You know when someone is losing an argument because they suddenly get all rattled, and personal, and sometimes even a little bit menacing," Johnson wrote in his column for Monday's Daily Telegraph newspaper. "We get an unending and intensifying diet of fear."
'Decade of Uncertainty'
Cameron and Chancellor of the Exchequer George Osborne published warnings in Sunday newspapers that Brexit would threaten state pensions and the National Health Service.
"If we vote out, there will be a decade of uncertainty," Cameron said in Sunday in a BBC television interview. "There's no saving from leaving the EU, there's a cost."
QuickTake Will Britain Leave the EU?
U.K. Independence Party leader Nigel Farage said Cameron and Osborne's claims were further evidence of scaremongering. He brought the focus back to Cameron's failure to bring migrant numbers down, saying that leaving the EU is the only way to regain control.
Labour's Struggles
Cameron was elected for a second term as prime minister last year with the support of 24 percent of registered voters and knows he will need opposition help to win the referendum.
Labour, which backs staying in the bloc, has struggled to get its message across in media coverage dominated by divisions in the Tory party. Brown's speech on Monday will be complemented by another from the party's foreign affairs spokesman, Hilary Benn. Labour's economy spokesman, John McDonnell, will lead a debate on the EU in the House of Commons on Wednesday.
A vote to leave the EU would lead to a Conservative government cutting vital services and benefits and stripping away workers rights, the Labour Party has warned.
"If the Leave campaign wins, it will be a Tory Brexit that we face with all the consequences for jobs, pay packets and public services in Labour's heartland areas," the party's deputy leader, Tom Watson, said in an e-mail.
Watch next: Capital Economics' Bootle: in Britain's Interest to Leave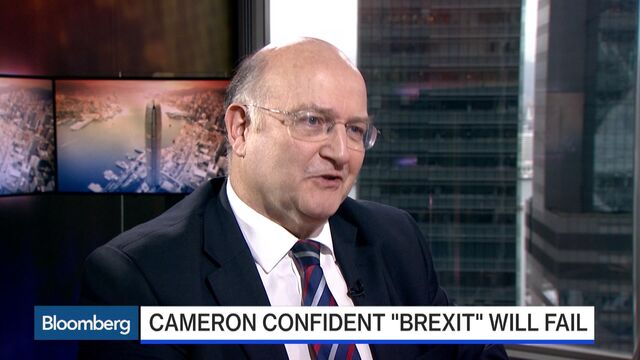 Before it's here, it's on the Bloomberg Terminal.
LEARN MORE