Alibaba Bears Pounce as SEC Probe, SoftBank Sale Squeeze Shares
by and
Short interest in U.S.-traded stock rises to record high

Most analysts remain bullish on Chinese e-commerce company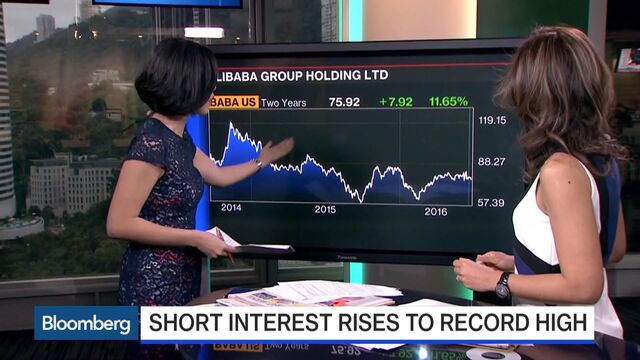 Traders have never been more bearish on Alibaba Group Holding Ltd., the fast-growing Chinese e-commerce company facing a regulatory probe and the loss of a key investor.
The total number of outstanding shares borrowed for short selling peaked at more than 124 million last week. That's the most since its 2014 initial public offering and is up from about 60 million in December, according to data compiled by Bloomberg and Markit Ltd.
Prominent short sellers including Jim Chanos and John Hempton have been red-flagging Alibaba for months, suggesting that its growth figures might be too good to be true. Bearish bets spiked in the past two weeks after the company disclosed a regulatory probe of its Chinese delivery unit and SoftBank Group Corp. disclosed plans to sell a $10 billion stake.
"There's been an accumulation of factors making it more and more attractive for short sellers to target Alibaba, while the SEC investigation and SoftBank share sale added a lot of pressure," said Gil Luria, an analyst at Wedbush Securities Inc. in Los Angeles, who has a neutral rating on the stock. "If the SEC was to find Alibaba's accounting isn't proper and Alibaba has to restate its results, that'll be very detrimental. Because Alibaba's so high profile, it will cast an even greater shadow of Chinese companies listed in U.S."

Alibaba, which claimed more than 75 percent of the e-commerce market share in China last year, made history with a record $25 billion initial public offering in September 2014. Traders in New York clamored for the stock, which was priced at $68 a share, as a way to tap into the potential profits available from the country's growing middle class.
The shares have dropped 6.4 percent to $75.92 since May 25 when the company said that the SEC is looking at data reported from the company's Singles' Day promotion, Alibaba's biggest shopping day, and how the company consolidates results from affiliates, including logistics partner Cainiao Network.
While SoftBank's divestment comes as part of a broader strategy to find new investments in startups and strengthen its debt-heavy balance sheet, the move can be unsettling to investors as the Japanese technology giant first bought into the company 16 years ago, said Henry Guo, a New York-based analyst at M Science.
"The stake sale by SoftBank caught the market off guard, which damped Alibaba shares as it's one of the early investors," Guo, who has been covering Chinese internet stocks traded in the U.S. for about 10 years and has a positive outlook on Alibaba, said by phone.
Sales Growth
Chanos, the hedge fund manager who became known for betting against Enron Corp. in 2001, told CNBC last month that he's shorting Alibaba "for accounting reasons." Hempton, of Sydney-based fund Bronte Capital, raised questions about the company's accounting in a blog-post last year, calling its numbers "wonky."
Hempton declined to comment beyond what he said in the blog post, and Chanos didn't respond to an e-mail and phone calls. Alibaba spokesman Robert Christie also declined to comment.
Most analysts covering Alibaba remain bullish. Thirty-seven of them advise buying the stock, while six rate it hold, according to data compiled by Bloomberg. It has no sell ratings. The company posted better-than-expected sales of 24.2 billion yuan ($3.7 billion) in the March quarter. Its platforms, which link buyers and sellers, hit a 3 trillion-yuan milestone of goods sold during the period, according to its earnings statement.
Relative Valuation
"The reality of Alibaba's strong position in e-commerce in China and the dramatic and rapid move to e-commerce in China set the stage for strong earnings," David Riedel, president of New York-based Riedel Research Group Inc. who rates the stock a buy, said by e-mail.
Alibaba also remains relatively cheap compared with global peers. The stock sells for 23 times projected 12-month earnings, compared with an average multiple of 51 among seven comparable e-commerce providers, including Amazon.com Inc., data compiled by Bloomberg show. The average 12-month price target of analysts covering the stock implies a potential return of 22 percent.
"A number of risks – corporate governance risk, accounting risk and political risk – could expose Alibaba shareholders at some point in the future," Cyrus Mewawalla, a managing director at London-based CM Research who previously rated the stock sell and now advises investors to avoid it altogether, said by phone from London. "The problem is, it's hard to say when exactly the risks we have highlighted will be realized. Overall, our research shows that the risk-to-reward ratio is not in investors' favor."
Before it's here, it's on the Bloomberg Terminal.
LEARN MORE