'Warcraft' Tops China's Box Office With $157 Million Debut
by
Film already surpassed what 'Star Wars' made in the country

Movie's performance in China is a contrast to sales in U.S.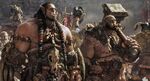 "Warcraft," the movie directed by David Bowie's son Duncan Jones, topped China's box office during its opening week as it headed toward becoming the highest-grossing Hollywood film in the country since "Furious 7."
Backed by the Chinese billionaire Wang Jianlin's Legendary Entertainment and gaming company Tencent Holdings Ltd., the film took in 1.03 billion yuan ($157 million) in ticket sales since its debut Wednesday, according to industry-data provider Entgroup Inc. "Warcraft" generated this year's biggest opening-day ticket sales in China, surpassing those of "The Mermaid," the country's highest-grossing movie, including local and Hollywood films.
The movie's success -- it's already surpassed what the last "Star Wars" feature made in China -- highlights the rewards Hollywood companies can reap by catering to Chinese tastes. "Warcraft," based on Activision Blizzard Inc.'s "World of Warcraft" game, may generate as much as 2 billion yuan in China, according to Nomura Holdings Inc., which would make it China's second-highest-grossing movie this year.

To read what Bloomberg Intelligence has to say about "Warcraft," click here.
By contrast, "Warcraft" wasn't even the top movie over the weekend in its debut in the U.S. and Canada, where it generated $24.4 million over the weekend. The film, which cost $160 million to make and also backed by Comcast Corp.'s Universal Pictures, will probably earn $45 million in total in U.S. and Canadian theaters, according to BoxOfficePro.com.
"The Conjuring 2," a new horror flick from Warner Bros, led the box office over weekend in the U.S. and Canada with sales of $40.4 million, according to researcher ComScore Inc.
To read about the American box-office tally over the weekend, click here.
Before it's here, it's on the Bloomberg Terminal.
LEARN MORE