Haven Currencies Benefit as Risk Events Keep Investors Guarded
by
Brexit angst hurts sentiment; Fed rate increase priced out

Investors prefer yen, swissie before Fed, BOJ, SNB decisions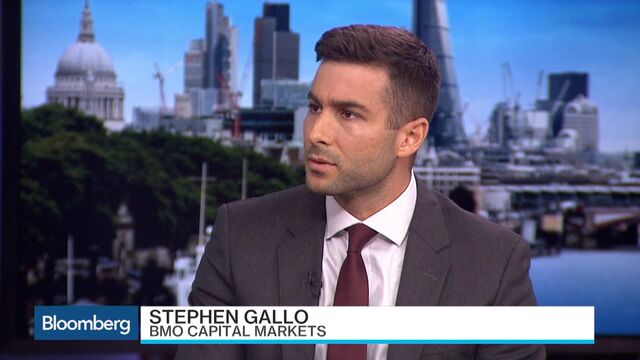 The yen advanced with the Swiss franc as investors opted for their relative safety as they brace for events next week and discount chances the Federal Reserve will increase interest rates in coming months.
Japan's currency performed best against the dollar among major currencies, followed by the Swissie. The odds that the Fed raises rates when it meets next week fell to zero after jobs data was released June 3. The report showed the fewest number of workers joined the labor force last month since 2010, undercutting interest in holding assets in dollars.
Also weighing on appetite for more risky assets were faltering equities, the European Union referendum in the U.K. and a darker outlook for the global economy. The South African rand, South Korean won and Swedish krona were the worst performers.

"It feels like there is a bit of a hangover from the payrolls number," said Ned Rumpeltin, European head of currency strategy at Toronto Dominion Bank in London. "Certainly with respect to the yen, that was the main catalyst. Today there is more of a cautious tone." He said weak payroll data had investors question "the underlying health of the U.S. economy" and what that meant for Fed policy.
The yen strengthened 0.2 percent to 106.92 per dollar as of 11:01 a.m in New York , after reaching 106.26 the previous day, its strongest in a month. The Japanese currency appreciated 0.3 percent to 120.79 yen per euro, having touched 120.33 yen Thursday, its strongest since April 2013.
With central banks from the U.S., Japan and Switzerland announcing rate decisions next week, and Brexit risks proving tough to predict through polling results, investors are likely to refrain from riskier trades, Rumpeltin said.
Catalysts
"There is a lot going on in terms of major catalysts," he said. "What that basically does is that it keeps people sitting on their hands."
The yen's advance is likely to continue over the next few months as investor concern over who will win the U.S. presidential elections will benefit the yen the most among Group-of-10 currencies, according to Petr Krpata, a London-based foreign-exchange strategist at ING Groep NV.
"We are extremely bullish on the yen and we expect it to break below 100 over the next few months" versus the dollar, adding that it may reach 98 in around five months.
Of the currency pairs that don't include the pound, the Swiss franc against the euro is one that most reflects Brexit concerns, Krpata said.
The Swiss franc strengthened 0.4 percent on Friday to 1.08770 to the euro, set for a weekly appreciation of 1.9 percent. The Swiss National Bank is due to announce its policy decision on June 16.
Before it's here, it's on the Bloomberg Terminal.
LEARN MORE