Why Line's Two-Year Wait for IPO Cost It $4 Billion in Valuation
By , , and
Planned public offering will value Line at $5.5 billion

That's about 40% lower than when it first filed in 2014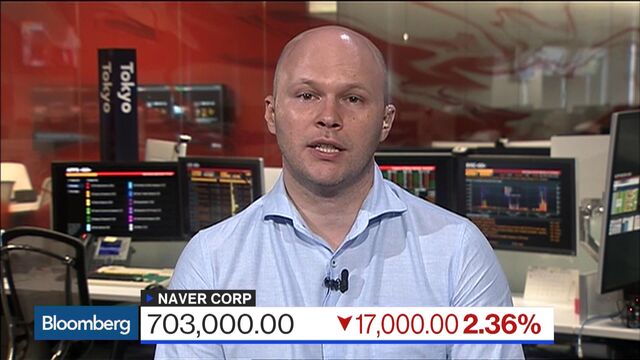 Line Corp. has finally pulled the trigger on an initial public offering after a two-year hiatus. That period of hesitation may have cost the messaging service $4 billion in valuation as Facebook Inc. began encroaching on its turf and markets cooled on technology company debuts.
Japan's leading mobile messaging service is aiming to raise as much as 113 billion yen ($1 billion) in July at a market value of roughly 588 billion yen, according to data in its Friday IPO filings. That's down 40 percent from an estimated 1 trillion yen when it first filed for an offering in 2014. The price range will be set on June 27, and the final price July 11.
That may be as good as it gets. Line's gearing up for a battle with far larger rivals like Facebook and China's WeChat as it looks to expand its 218 million user base beyond its strongest markets of Japan, Taiwan and Thailand. The Tokyo-based company, owned by South Korean search portal Naver Corp., plans to use the proceeds to spearhead an expansion across Asia and, eventually, the U.S.
"Line will have its market in Japan fairly fortified from the likes of WhatsApp or even Facebook Messenger," said Amir Anvarzadeh, manager of Japanese equity sales at BGC Partners Inc. "Outside of its core markets, it's going to be a massive challenge."
Line's asking price contrasts with the princely sums conferred upon rival messaging services. Facebook paid $22 billion for WhatsApp -- which barely had a business model. Snapchat Inc. was last valued at $18 billion. Line's own current valuation of $5.5 billion implies it's asking investors to pay about $25 per user, a far cry from the $55 a user Facebook forked over for Jan Koum's app in February 2014.
Facebook and Tencent Holdings Ltd. already hold sway in the U.S. and China, the world's two largest internet markets. WhatsApp and Messenger each count about a billion users and dominate through sheer numbers, while Tencent's WeChat has become intertwined with the daily lives of its 762 million users, offering everything from car bookings to restaurant payments.
To be sure, Line has killed it at home. Debuting in 2011, it pioneered the business model of selling stickers and other digital knickknacks that people buy and share during chat sessions on phones. Following the WeChat model, its users have access to streaming video, payment services, on-demand taxis and job listings. That approach earned the Japanese company top spot in global smartphone revenue rankings last year, excluding games, according to market researcher App Annie.
But user growth plateaued as it made limited headway beyond its home country. The company generates most of its sales at home: while Japanese users accounted for 27 percent of Line's monthly active users, 69 percent of its revenue came from Japan in the fourth quarter of last year. 

Line is now valued at about 4.9 times its 2015 sales. That falls short of Facebook's price-to-sales ratio of 11.3 times, based on revenue estimates. It's also cheaper than Tencent's 8.9 times, but more expensive than South Korea's Kakao Corp.'s 4.1 times or Twitter's 3.5 times.

That's why Line is targeting Asia, a region mostly split between disparate apps and where it already has a foothold. It's No. 1 in Thailand and Taiwan and Chief Executive Officer Takeshi Idezawa, 43, is betting his company can make headway in regions lacking a dominant messaging service.
The structure of Line's IPO hints at its longer-term geographical ambitions. It plans to sell almost two-thirds of its offering in the U.S., an unusually large allocation for a Japanese company. Investors will want to hear about its broader expansion goals during the upcoming roadshow, even as they scrutinize its business performance.
Sales grew 40 percent last year to 120.7 billion yen, with games, streaming music and comics accounting for 41 percent. The company however chalked up a net loss of 7.6 billion yen in the period, according to the filing. While it cited rising costs related to business expansion and higher payouts related to smartphone settlement and royalties, it said content and advertising sales were robust.
Line plans to offer 35 million shares in the U.S. and Japan, with an over-allotment of 5.25 million shares.  The IPO would be this year's biggest tech offering globally, according to data compiled by Bloomberg, providing a rare bright spot for the depressed market for listings. No business has raised more than $150 million via a technology listing in 2016, even though more than 160 private startups are currently valued at $1 billion or more.
"Because of the looming presence of Facebook's Messenger and WhatsApp, there is certainly a need for apps like Line, which is really popular in certain markets, to expand as fast as possible and stake a claim in other countries," said Felim McGrath, a London-based trends manager at market researcher GlobalWebIndex. "Facebook has such a broad penetration via its main network that it can push its messaging platforms to its many existing users."