U.S. Corn-Supply Outlook Lowered as Dry Brazil Spurs Exports
Alan Bjerga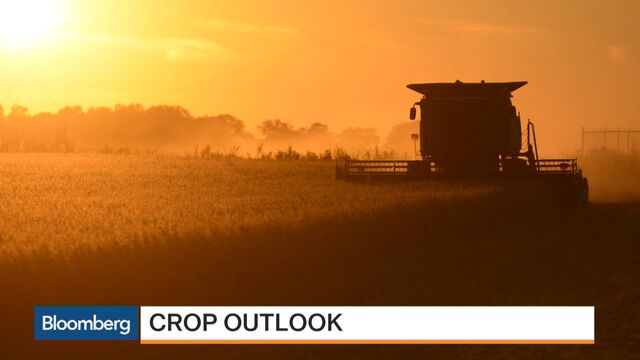 U.S. corn supplies may be smaller than previously forecast as dry weather in Brazil is harming the crop of a chief rival, a government report showed. Estimates for soybean stockpiles were also reduced.
Expected U.S. stockpiles may be 2.008 billion bushels at the end of the marketing year that concludes Aug. 31, 2017, the Department of Agriculture said Friday in a monthly report. That's less than the agency predicted last month and below the average forecast in a Bloomberg survey of analysts. Estimated supplies for the current marketing year were also lowered, to
1.708 billion bushels from 1.803 billion.
"Reduced corn production in Brazil and harvest delays in Argentina have improved the relative competitiveness of U.S. corn in recent weeks," according to the report. "An early end to the rainy season in west-central Brazil has reduced yields."
The USDA also cut its estimates for domestic soybean reserves more than analysts expected for this year and next, as U.S. farmers benefit from dryness in South America. Supplies before this year's crop is harvested will be 370 million bushels, less than the 400 million USDA predicted a month ago. They will shrink further next year, reaching 260 million bushels as of Aug. 31, 2017, USDA said.
Corn and soybean futures in Chicago have rallied as disruptive weather has improved a bleak price outlook for producers.
The USDA in a separate report also forecast higher-than-expected winter-wheat production for 2016 as yields may reach a record 50.5 bushels per acre this year. The crop may total 1.51 billion bushels, a 10 percent jump from last year and more than analysts forecast.
Before it's here, it's on the Bloomberg Terminal.
LEARN MORE