Turkey Growth Beats Estimates as Household Spending Surges
by
Economy grew 4.8 percent in first quarter; survey 4.4 percent

Private consumption growth at 6.9 percent highest in 5 years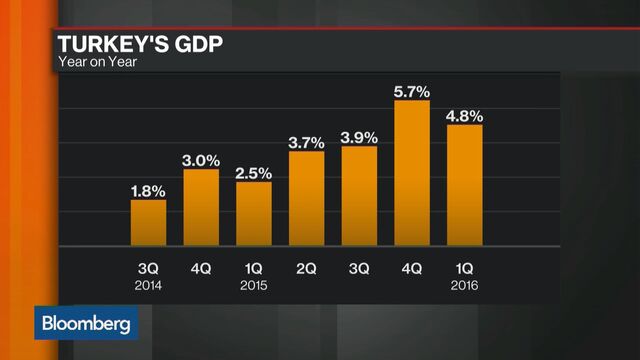 Turkey's economy expanded more than forecast in the first quarter on household consumption, which grew by the most in five years following a 30 percent increase to the official minimum wage.
Gross domestic product grew 4.8 percent in the January-to-March period compared with 5.7 percent in the previous quarter, Turkey's state statistics bureau said on Friday. The median estimate of 17 analysts in a Bloomberg survey was 4.4 percent. Seasonally adjusted output rose 0.8 percent.
Households' expenditures, which makes up more than two-thirds of the economy, rose by 6.9 percent, the highest pace since the third quarter of 2011, while government spending grew 10.9 percent, the most since 2009, Turkstat said. The minimum wage increase as well as a refugee influx from neighboring Syria drove the increase in consumption, said Kapital FX economist Enver Erkan, whose 4.7 percent GDP forecast was the most accurate in the survey.
"It gives you the numbers but it's hard to call it healthy growth," Erkan said by phone, referring to the one-time nature of what's driving expansion. "The strength of domestic demand is mainly due to the rise in minimum wage earners' income. Then you have refugees who are spending more than before."
The lira weakened after the data and was trading 0.6 percent lower at 2.9082 per dollar at 11:18 a.m. in Istanbul.
Beating Estimates
Turkish growth has beaten estimates since the fourth quarter of 2014, mostly due to household consumption, according to data compiled by Bloomberg. The recent strength of private demand may stem from the millions of Syrians and Iraqis that have sought refugee in Turkey, Morgan Stanley said in March.
Turkey will continue to implement structural reforms that will allow the economy to grow at high pace, Turkey's Finance Minister Naci Agbal said in e-mailed comments.
The size of Turkey's annualized economy in current prices fell to $708.7 billion from $720 billion at the end of 2015, Turkstat said. The lira lost nearly 20 percent against the dollar last year.
Separately, the central bank reported Turkey's current-account deficit narrowed for a ninth month in April, to $2.96 billion from $3.86 billion a year earlier, as the cost of imported energy fell. The median estimate in a Bloomberg survey of 13 analysts called for a $3.4 billion gap.
The annualized gap has been shrinking since August as lower oil prices reduced Turkey's energy imports bill. Imports of mineral fuels, which include purchases of crude oil, declined 33 percent to $2 billion in April from a year earlier, according to the state statistics institute.
Before it's here, it's on the Bloomberg Terminal.
LEARN MORE