U.S. Regulator NHTSA Says Tesla Clarified Agreement Language
by
U.S. safety agency analyzing data on Model S suspensions

Company said it was 'preposterous' to suggest aim of stifling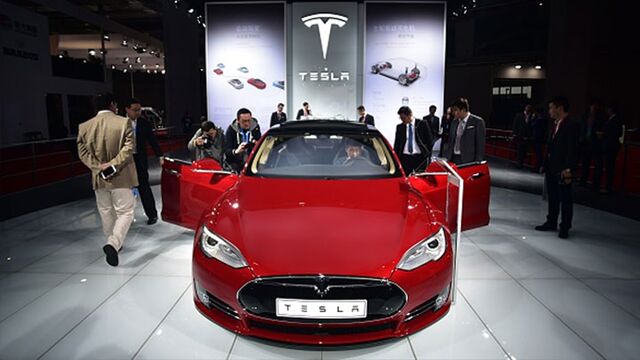 Tesla Motors Inc. has revised its so-called Goodwill Agreements to make clear that customers are free to report safety concerns to regulators, the agency's spokesman said in an e-mailed statement.
The youngest publicly traded U.S. automaker had issued a lengthy response to reports that the U.S. is investigating a potential safety defect involving Model S sedan suspensions, and said it hasn't discouraged customers from reporting issues to regulators.
"There is no safety defect with the suspensions in either the Model S or Model X," the company said in a blog post on Thursday. Tesla said it's never asked a customer to sign a document preventing them from talking with the National Highway Traffic Safety Administration. "That is preposterous," it said.
The potential suspension issue came to light after comments on the privately run Tesla Motors Club forum were first reported by the Daily Kanban blog. Daily Kanban reporter Edward Niedermeyer is a contributor to Bloomberg View. The blog said Tesla demanded a customer sign a non-disclosure agreement in exchange for repairing a defective part.
Tesla Chief Executive Officer Elon Musk said in a posting on his personal twitter account on Friday that "37 of 40 suspension complaints to NHTSA were fraudulent, i.e. false location or vehicle identification numbers were used." This indicates that one or more people "sought to create the false impression of a safety issue where none existed."
NHTSA is reviewing the model's suspension as a routine matter and the company has fully cooperated with requests for information, said Bryan Thomas, the agency's spokesman. No safety issue has been identified, he said.
"NHTSA has also confirmed that Tesla has clarified the language in its Goodwill Agreements in a satisfactory way, resolving the issue," he wrote.
Plans to change to the wording were reported earlier by the trade publication Automotive News, citing a Tesla representative.
NHTSA said Thursday it was looking into a potential suspension issue on the Model S. The agency is seeking additional information from the company and from vehicle owners, Thomas said by e-mail. The regulator also told Tesla it shouldn't discourage customers from reporting safety concerns, and Tesla said that wasn't the company's intention, he said.
On rare occasions when repairs are discounted or conducted for free, customers are asked to sign a "goodwill agreement," Tesla said in its 989-word blog post. 
"The basic point is to ensure that Tesla doesn't do a good deed, only to have that used against us in court for further gain," the company said.
Musk has been swift in responding to news reports before. In February 2013, he fired back at the New York Times, releasing vehicle logs he said contradicted a review that was critical of the Model S.
Tesla shares fell 4.6 percent Friday to $218.79 after dropping 2.6 percent on Thursday. They have declined 8.8 percent this year, while the Russell 1000 Index gained 2.5 percent.
Before it's here, it's on the Bloomberg Terminal.
LEARN MORE