Republican Party Deploying Volunteers to Boost Trump
By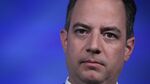 The Republican National Committee is dispatching some 5,000 volunteers in 14 states on Saturday, the party's first national day of training for the 2016 election, Chairman Reince Priebus said.
Since the presumptive Republican nominee's organization remains a fledgling effort, the party is picking up the slack, coordinating with the Trump campaign and local officials across the nation.
The volunteers will knock on more doors Saturday than in all of June 2012—about 77,000, Lindsay Walters, an RNC spokeswoman, told Bloomberg Politics. They'll interview voters who have been identified as skeptical of Hillary Clinton, the presumptive Democratic nominee.
"We learned from our loss in 2012 that we need to get out and engage people and have a personal conversation with them and get a pulse on what the issues are that they're concerned about," Walters said.
The push is focused in 14 states, many of which are crucial battlegrounds to win the White House: Colorado, Florida, Iowa, Michigan, North Carolina, New Hampshire, Nevada, Ohio, Pennsylvania, Virginia, Wisconsin, California, New York, and Utah.
While recruitment is being handled by the RNC, the Trump campaign has tapped their e-mail lists to boost enlistment. In Virginia, according to Walters, the campaign's appeal tripled the size of the state's volunteers. 
The information collected by the neighborhood teams on Saturday will be catalogued and studied as party officials work to convince persuadable voters to cast a ballot for Trump and other Republicans on the ballot.
The party also has 461 paid staffers on ground in battleground states, which is a vast improvement to the effort in 2012, Walters said.
"We're not going to do a sprint anymore, we're going to do a marathon," she predicted.