How Gawker Sidestepped Peter Thiel's Vendetta
Filing bankruptcy to block the Hulk Hogan sex-tape verdict opens a new front in a widening legal war.
by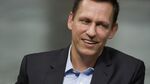 As far as legal strategies go, Gawker Media LLC's move on Friday to evade a deep-pocketed enemy by filing for bankruptcy is hardly the sort of brash, risky gambit for which the publisher is known. It's a tried-and-true legal maneuver.
Companies that lose big at trial often run across the street to bankruptcy court, looking for protection from their newest—and usually biggest—creditor. In the case of Nick Denton and his web-publishing empire, the decision to seek court protection had the added benefit of buying time.


A judge in Florida declined to overturn the $140 million state court judgment in the Hulk Hogan sex tape case, so the bankruptcy petition stopped the clock, allowing Gawker to focus on selling off its best units, including Gizmodo and Deadspin, to media giant Ziff Davis for $100 million (according to people familiar with the deal). The sale will take place as a bankruptcy auction, allowing for better bids down the line.
In doing so, Gawker sidestepped, for now, paying off Hogan's invasion-of-privacy verdict in a case funded by Denton's declared nemesis, tech billionaire Peter Thiel, who has been helping bankroll Hogan's case and others. Gawker's lawyers also asked the Manhattan bankruptcy court to shield Denton himself from paying the verdict, as well as other lawsuits, a request that isn't guaranteed to be granted.
"Forestalling payment on the judgment seems to be the purpose of this bankruptcy," said Lynn LoPucki, a bankruptcy expert and law professor at the University of California-Los Angeles. He explained that "a judgment is simply a mature debt," like the thousands of dollars Gawker owes its law firms, Google Inc., and others. And in bankruptcy, payment of those debts is stayed.

The bankruptcy and sale "are intended to preserve the value" of Gawker and fund its appeal in the Hogan case, the company said in a statement. It also provides a way for the company's best brands to be sold in a kind of legal carwash—a court-supervised auction. Ziff Davis is focused on the Gawker brands in the tech, gaming, and lifestyle categories, which contribute the vast majority of Gawker Media's revenue, according to the person familiar with the purchase.
LoPucki said the bankruptcy case may not protect Gawker's assets forever. Unless the company and Denton win reversal of the Florida verdict, he said, Hogan will probably get his money. And even if by some arcane rule of bankruptcy the parent company is protected, he can always still go after Denton.

"Nothing in here suggests that Denton has any way to win," LoPucki said. "Denton wins by delaying enforcement through the bankruptcy, winning on appeal, and never having to pay the judgment."
Before it's here, it's on the Bloomberg Terminal.
LEARN MORE