Grains Decline as U.S. Sees Global Supply Exceeding Estimates
by and
Record winter-wheat yield increases production in U.S.

Wheat futures drop after USDA report, corn erases gains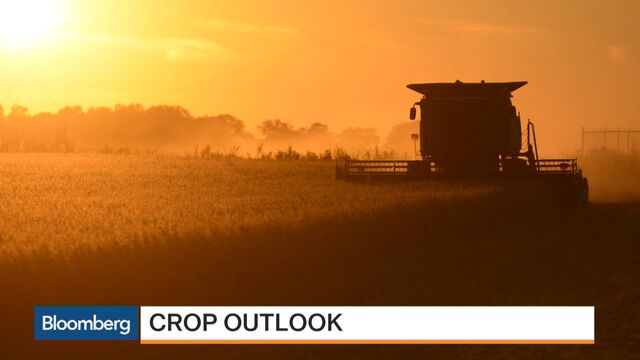 Grain prices dropped in Chicago after the U.S. government said that supplies will be bigger than analysts expected.
World wheat inventories in the 2015-16 season will reach 243 million metric tons, the U.S. Department of Agriculture said Friday in a report. That compares with analyst projections at 242.5 million, on average. Global corn reserves will be 206.5 million tons, topping the 205.5 million estimate.

Dry weather in Brazil sparked speculation among grain investors that global gluts finally would start to ease. The country is among the world's top suppliers of corn and soybeans, and prices for both crops have rallied in recent weeks amid output concerns. While the USDA said domestic corn inventories would be smaller than analysts forecast, its outlook for global reserves topped estimates and will be the third-biggest ever. At the same time, yields for U.S. winter wheat are rising to a record and boosting production.
"Even with the smaller acreage, the bigger yields are offsetting that," said Ted Seifried, chief market strategist at Zaner Group in Chicago, referring to U.S. wheat.
On the Chicago Board of Trade, wheat futures for July delivery fell 3 percent to close at $4.95 a bushel, the biggest drop since May 31. Corn futures for July delivery declined 0.8 percent to $4.23 a bushel. Earlier, the price climbed as much as 2.5 percent.
The bright spot for agriculture bulls is soybeans. The USDA projected world and U.S. inventories that were smaller than analyst projections after the dry weather in Brazil and flooding in Argentina, forecasting an eighth straight gain in global consumption.
Soybean futures for November delivery rose 0.9 percent to $11.6275 a bushel. The contract climbed for the eighth straight session, the longest rally since mid-March. The price earlier reached $11.845, the highest since June 2013.
Before it's here, it's on the Bloomberg Terminal.
LEARN MORE