New York Bank Regulator to Examine Goldman's Dealings With 1MDB
by
DFS asks bank for details of global probes by next week

Regulator also wants copies of suspicious activity reports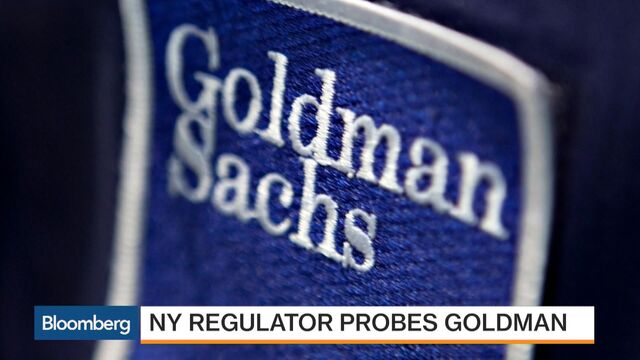 Goldman Sachs Group Inc. is drawing scrutiny from New York's bank regulator over its fundraising for Malaysia's embattled 1MDB fund, according to a person briefed on the matter, as questions mount about the bank's role in the international scandal.
New York's Department of Financial Services asked Goldman Sachs on Thursday to swiftly report on its internal review of more than $6 billion in bond sales for 1Malaysia Development Bhd., this person said. In a letter, the New York bank regulator also asked Goldman to provide an overview, by June 14, of every investigation in the U.S. and abroad into its work for the fund, which is known as 1MDB.
The New York bank regulator joins the U.S. Justice Department, Federal Reserve and Securities and Exchange Commission in examining Goldman's dealings with 1MDB.
Goldman Sachs, through a spokesman, declined to comment.
For a look at Tim Leissner, Goldman's former Southeast Asia chairman, click here.
The Malaysia fund is at the center of several international investigations into alleged corruption and money laundering by public officials. Prosecutors in at least four countries -- Singapore, Switzerland, Luxembourg and the United States -- are looking into money flows from the investment vehicle, which was established for national development.
Among the questions asked by some international authorities is whether politically connected individuals in Kuala Lumpur may have benefited financially from the fund, whose advisory board was headed by Malaysia's prime minister, Najib Razak. Both 1MDB and the prime minister have denied wrongdoing.
DFS has jurisdiction in the matter because it licenses banks chartered by the state of New York. Nationally chartered banks are regulated by the federal Office of the Comptroller of the Currency.
As part of its request for information about other investigations, DFS asked Goldman Sachs whether any interviews have been scheduled with witnesses. It asked for copies of any slide presentations made to prosecutors in the U.S. or abroad, and any suspicious activity reports that were filed. It also asked Goldman about any internal review that might be focused on whether bank secrecy laws were violated, or red flags ignored, according to the person briefed on the matter.
The letter to Goldman comes as Maria Vullo, the acting superintendent of DFS, awaits a vote by the New York state senate on her nomination to the position, which could take place this month. Her predecessor in the job, Benjamin Lawsky, earned a reputation among international regulators for his aggressive approach to investigating and regulating global banks.
Political Connections
The DFS request reflects growing interest among U.S. regulators in Goldman's role in financing 1MDB. Last year, an investigation by agents from the FBI's New York office centered on a series of real estate transactions -- involving trophy properties in New York and Beverly Hills worth tens of millions of dollars apiece -- by politically connected Malaysians.
Last year, Goldman hired a law firm to review its actions related to 1MDB. The 1MDB bond deals -- which raised $6 billion in 2012 and 2013 -- drew attention for the above-average commissions that Goldman generated. Putting its own capital at risk, the investment bank earned commissions and expenses of $593 million, or more than 9 percent of the proceeds.
Swiss prosecutors have said they have "serious indications" that billions of dollars were misappropriated from 1MDB.
Before it's here, it's on the Bloomberg Terminal.
LEARN MORE