Stocks in Europe Tumble Most Since February in Sign of Anxiety
by and
All but 16 members of Stoxx 600 fall as banks lead losses

Lufthansa slides after saying CFO will step down in August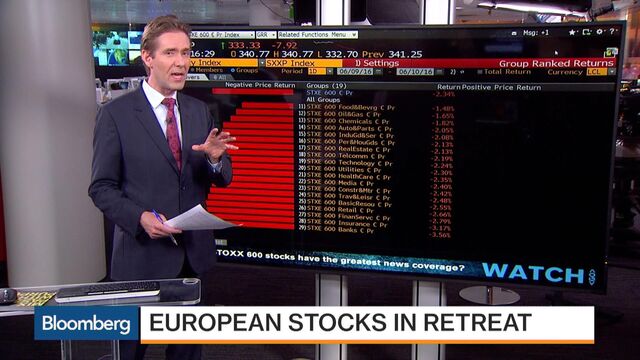 European stocks plunged the most since the nadir of the February slump as investors shunned risky assets before monetary-policy and political events later this month.
The Stoxx Europe 600 Index lost 2.4 percent at the close of trading, deepening its worst weekly drop in a month to 2.5 percent. All but 16 stocks fell, with lenders in Italy and Greece among the worst performers. A gauge of euro-area stock volatility jumped 17 percent, extending its biggest weekly gain since January.
Investors are bracing for a slew of potential triggers in the next two weeks, amid signals that European Central Bank officials may sit tight on stimulus measures over the summer months. The Federal Reserve's rate decision and the Bank of Japan's policy statement are both due on June 15, followed by a June 23 referendum to determine Britain's membership in the European Union, and Spain's general election three days after that.
"Everybody seems angry about this market," said Benno Galliker, a trader at Luzerner Kantonalbank AG in Lucerne, Switzerland. "It really looked like we could go to the upside but now in Europe it seems everything is falling apart. Nobody wants to stay in the market with so many things coming up: the Fed, BOJ, Brexit vote."

The Stoxx 600 kicked off this week with gains amid a rally in oil shares and optimism the Fed won't raise rates prematurely, only to reverse direction mid-week as political uncertainty and concern over global growth took hold. The benchmark has struggled to maintain momentum in a rebound after surging 16 percent from its February low to an April 20 high. It has traded in a range of less than 25 points since March.
Among other shares active on corporate news, Deutsche Lufthansa AG dropped 5.6 percent after announcing the surprise departure of Chief Financial Officer Simone Menne. PSA Peugeot Citroen fell 1.6 percent after a report that 10 members of the Peugeot family may consider boosting their holding in the company.
London-based staffing company SThree Plc tumbled 8.4 percent after saying uncertainty stemming from Britain's EU referendum has led to a slowdown in its U.K. business. Recruitment providers Hays Plc and PageGroup Plc slid more than 6 percent.
Before it's here, it's on the Bloomberg Terminal.
LEARN MORE