EU Carbon Permits Drop Amid Doubt Europe Will Adopt Price Floor
by and
French proposal seen tackling symptons of glut, not root

Britain's floor price spurs investment boost, Iberdrola says
European Union carbon allowances declined at the fastest pace since June 1 amid skepticism that the region will adopt a proposal by France to include a minimum price in almost-daily auctions of the contracts.
Benchmark allowances fell as much as 3.3 percent Friday as Segolene Royal, France's energy and environment minister, at a conference in Paris urged EU members to consider adopting a floor in the market as "the price of carbon in Europe isn't high enough to trigger investments needed to replace coal." Permits have dropped 28 percent this year.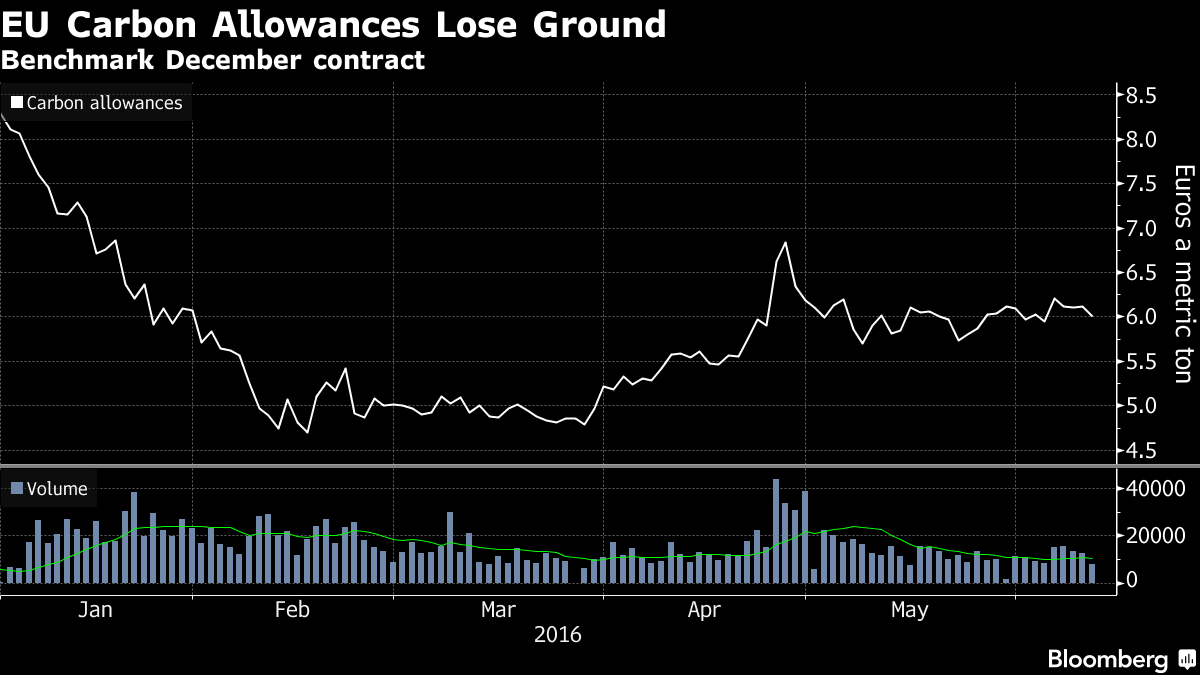 EU Climate and Energy Commissioner Miguel Arias Canete last week repeated his doubts that regulated price levels would work, saying a decision on which figure to choose would need unanimous support by member states. Europe continues to struggle with a glut that's the equivalent of about a full year of allowances. China, South Korea and North American states and provinces are among regions progressing with carbon-pricing plans.
"I'm skeptical" that France's minimum-price plan would ever win enough support to be enacted, Anatoly Stolbov, an analyst at Virtuse Energy s.r.o. in Prague, said by e-mail. "Low price is just a symptom that the system is not healthy. As with any health issue, one should treat the root problem, not the symptom," he said.
No Minimum
Arias Canete last week defended the current design of the carbon market, which has no minimum or maximum levels. The EU plans to implement from 2019 a market stability reserve to absorb spare allowances and it's already removing the equivalent of half a year's supply from auctions.
Royal commissioned Engie SA Chairman Gerard Mestrallet to prepare proposals for a Europe-wide "corridor" including a minimum price, which would rise over time. The U.K. already has a floor, which has spurred investment in wind farms and prompted the closing of coal stations, Ignacio Galan, chief executive officer and chairman of Iberdrola SA, said at the Paris conference.
A carbon price of 20 to 30 euros ($22.60 to $33.90) a metric ton could be neutral for Spanish consumers if some other taxes on energy were removed, Galan said. That's more than three times the 5.95 euros a ton for benchmark allowances on the ICE Futures Europe exchange in London at 4:20 p.m. They earlier fell to 5.92 euros, the lowest since June 1. California has a minimum price in auctions of $12.73 a ton.
"Go Fast"
"We must go fast," Galan said. "England has put a price on carbon, which led us to shut coal plants and to invest on onshore and offshore wind. They did something realistic with 18 pounds ($25.95) per ton."
Each continent around the world may end up with differing emissions systems, depending on the nature of their energy markets, said Royal. There's a need for coordination so that carbon pricing doesn't distort traded markets for goods and services, she said.
The goals contained in the United Nations climate deal struck in December in the French capital by almost 200 nations are tighter than those represented by Europe's current price, Mestrallet said Friday at the conference.
"The emissions trading system as it is today doesn't send signals compatible with the Paris agreement," he said. "It must be improved very significantly."
Before it's here, it's on the Bloomberg Terminal.
LEARN MORE