ECB's Foray Into Junk-Rated Bonds Seen as 'Too Little, Too Late'
By
Draghi acted under pressure to deliver, Paamco's Pascualy says

Speculative-grade yields to decline in negative-rate setting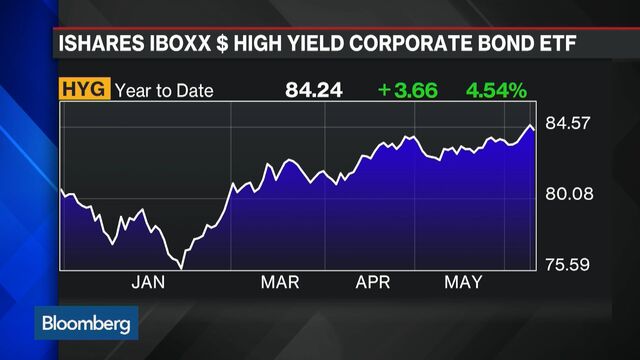 Mario Draghi's foray into corporate bonds with junk ratings was an "aggressive" effort in monetary stimulus, but it still may not be enough to jump-start the region's economy, according to Putri Pascualy at Pacific Alternative Asset Management Co.
"It was a very aggressive move," Pascualy, managing director and credit strategist for Paamco, said of the European Central Bank president's latest step in a television interview Friday on Bloomberg <GO>. "However, my personal sense is that it might be a little bit too little, too late."

The ECB this week expanded its bond-buying initiative to stimulate the region's flagging economy to include corporate bonds along with covered bonds, asset-backed securities and government debt. The central bank purchased notes from a range of companies across the euro region, including Telecom Italia SpA, according to people familiar with the matter.
Italy's biggest phone company has speculative-grade ratings at both Moody's Investors Service and S&P Global Ratings, but qualified for the central bank's purchase program because it has one investment-grade ranking, from Fitch Ratings.
For a Bloomberg View column on the ECB's junk-debt buying, click here.
"He's under a lot of pressure politically, because there have been a lot of expectations in the past and the markets seemed to feel that he didn't deliver," Pascualy said of Draghi. "So from that angle, it was the right move" to buy bonds with junk ratings. Paamco manages $10.5 billion in assets.
ECB monetary stimulus has been driving investors into speculative-grade deals in recent months in a search for positive returns amid a negative interest-rate environment. The average yield on euro bonds fell to 0.96 percent, the lowest in more than a year, according to Bank of America Merrill Lynch index data.
"In high-yield, I expect yield to come down as well because its going to move along with investment grade," Pascualy said. "In European high-yield, we already see that flow over impact, and we expect U.S. high-yield to come down as well."
The recent rush to junk bonds will likely be followed by a period of fear in the market, according to Pascualy, and an exodus from the sector can be expected. Investors and issuers alike have been punished by negative rates, and all of Draghi's efforts since 2012 have yet to get the economy up to full steam.
"In the long run, that problem of low growth is still not resolved," she said.