Bank of Russia Resumes Easing With First Rate Cut Since July
by and
Economists were divided after rate pause lasted almost a year

Risks of missing inflation target declined, central bank says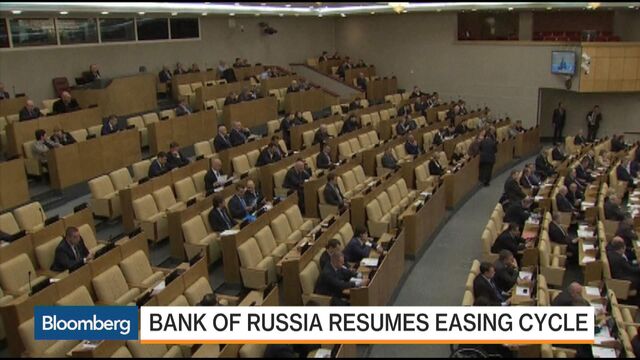 Russia's central bank stopped short of signaling the start of a new easing cycle after reducing borrowing costs for the first time in almost a year.
The one-week auction rate was cut to 10.5 percent from 11 percent, according to a statement on Friday. That was forecast by 22 of 43 economists in a Bloomberg survey, with the rest seeing no change. Policy makers will "consider the possibility" of further easing if inflation is in line with forecasts and based on estimates of risks to price growth, the central bank said.
"Certainly there's potential for decreasing rates," Governor Elvira Nabiullina said at a news conference in Moscow after the announcement. "But the trajectory of rate decreases -- when, by how much rates will fall -- these decisions depend on how the economic situation will develop, whether or not new inflation risks will materialize or emerge."
In one of the most debated decisions since Nabiullina took charge three years ago, the central bank is moving past a pause prompted by the crash in oil and a new round of inflation pressure. The pivot comes before a parliamentary ballot in September, Vladimir Putin's biggest electoral test since he returned to the presidency in 2012, which is raising the threat of spending increases that could again fan prices.
For a story about Russia's inflation outlook, click here.
The ruble reversed its losses after the announcement before trading 0.5 percent weaker at 64.6350 against the dollar as of 3:44 p.m. in Moscow. The Russian currency has gained almost 14 percent against the dollar this year, the second-biggest rally in emerging markets, after a 20 percent loss in 2015.
"It's not only about the sharp fall in inflation," said Piotr Matys, a strategist for emerging-market currencies at Rabobank in London. "The cut should also be seen as a warning signal to speculators that the central bank will not tolerate an excessive currency appreciation."
Key points from the statement:
"More confidence" in improving inflation outlook, prices growing "less than predicted"
A further rate cut will be considered based on estimates for price growth and whether its decline is in line with forecast trajectory for inflation

Inflation expectations of households, businesses continue to ease
Economy approaching "imminent growth recovery," quarterly expansion is set to resume in the second half

Better economic performance isn't accompanied by higher inflationary pressure
Bank of Russia prepared to take measures to soak up liquidity in financial industry
Situation on commodity markets "more favorable than expected"
Annual output growth of goods services will remain "low" after 2017
Economic outlook assumes a "fairly conservative estimate" of oil prices averaging about $40 a barrel over the next three years

While the central bank shifted to an easing bias in April for the first time this year, it made any rate cuts conditional on inflation risks falling enough to have "greater certainty" of reaching the 4 percent price target in 2017. Policy makers have also conceded that monetary easing will bring little relief to the economy that's been in contraction since the start of last year.
"Monetary conditions will still be moderately tight," the central bank said. "Real interest rates in the economy will remain at a level that encourages savings and allows for demand for loans that doesn't cause an increase in inflationary pressure."
'Heightened Level'
While the risks of missing next year's aim have declined, they remain at a "heightened level," the Bank of Russia said in the statement. It reduced its inflation forecast to 5 percent to 6 percent at year-end and upgraded its projection of economic growth in 2017 to 1.3 percent.
The Bank of Russia has warned about a possible increase in inflation in May-June. Even so, annual price growth remained at 7.3 percent for a third month in May, the slowest since 2014. That's less than half the level of inflation in July 2015, when the central bank last cut rates. Policy makers estimate that annualized monthly inflation is running at about 5 percent on a seasonally adjusted basis.
"The Russian central bank delivered a hawkish cut, using the current opportunity of favorable circumstances but also signaling that the cycle will be very gradual," said Dmitri Petrov, a strategist on Nomura International Plc in London. "The message is that September could potentially be on the table."
Before it's here, it's on the Bloomberg Terminal.
LEARN MORE