Drinks
The Drink to Make This Weekend: The Americano
In the first of our new series, the 12 Cocktails of Summer, we look at an elegant, low-alcohol, easy-to-make classic that's perfect for afternoon day drinking.
By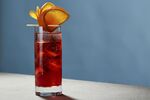 Invented in the late 1860s in Milan by Gaspare Campari—creator of the namesake Italian bitter—this refreshing cocktail has been in vogue among aficionados ever since American expats fleeing Prohibition discovered it in Italy during the 1920s It's likely that their enthusiasm for the concoction ended up giving the drink its modern name. By the mid-20th century, the Americano was popular enough that even that discerning cad James Bond took a liking to the aperitif—it's the first drink he ever orders, in Ian Fleming's Casino Royale.
Masa Urushido, bar manager at New York's Saxon + Parole, credits the cocktail's success to its effervescent texture and beguiling interplay of bitter and sweet notes. "The spirits complement each other," he said. "The sweet vermouth softens the Campari and makes it more palatable, then you add the carbonation, which brings out even more taste and aroma. It's just a great, traditional cocktail that everyone loves." And with its tall, rosy blush complexion, the Americano even looks good and makes for a chic accessory in warm-weather wedding attire.
Thanks to its low alcohol content—especially when compared with its boozier cousin, the Negroni, roughly equal parts gin, Campari and sweet vermouth—the Americano especially lends itself to day-drinking, whether on the beach or at a streetside Milanese café.
Ingredients:
1oz Campari
1oz sweet vermouth
soda water
1 orange slice (cut in a wheel shape)
Fill a Collins glass to the top with cubed ice, add the Campari and sweet vermouth, then top off with soda water. Stir, add a straw, and garnish with half an orange wheel. Urushido recommends Martini-Rossi for the vermouth and Perrier for the bubbles.
Before it's here, it's on the Bloomberg Terminal.
LEARN MORE