What We Learned From Four Days of Briefings in Saudi Arabia
by , , and
Cabinet ministers announced National Transformation Program

Plan seeks to cut the kingdom's reliance on oil by 2020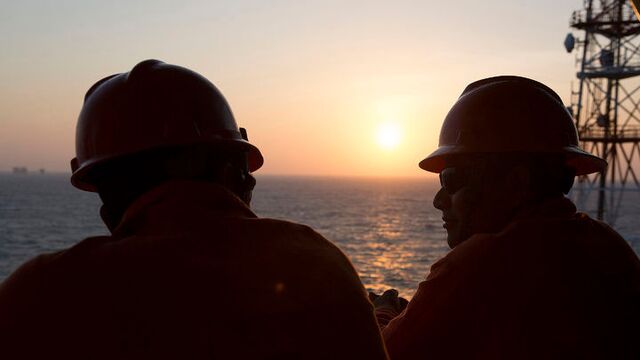 Four days, four late-night press conferences and dozens of targets aiming to reduce Saudi Arabia's addiction to oil revenue by 2020.
More than half of the Saudi cabinet went through 110 pages making up a multi-year plan to overhaul an economy whose fortunes have depended largely on government spending on infrastructure and where citizens got accustomed to state largess.
For more on the Saudi prince leading the economic shakeup, click here
For Prince Mohammed Bin Salman's interview on the economic reforms, click here
The announcements included a proposal to tax millions of foreign workers as well as plans to cut the public-sector wage bill, loosen visa restrictions for investors and set up partnerships with real-estate companies to build hundreds of thousands of housing units.
Some of the National Transformation Program's details helped Saudi stocks gain this week. Several analysts are urging caution. "We are still concerned that the implementation of structural reforms could prove to be tricky," London-based Capital Economics wrote in a note. "History suggests that it's best to take reform announcements in Saudi Arabia with a large pinch of salt."
The NTP was the first part of the so-called Saudi Vision 2030 which was announced in April. The Vision includes a plan to transform Aramco into an energy and industrial complex, create the world's largest sovereign wealth fund and build partnerships in a number of sectors. A delegation headed by Deputy Crown Prince Mohammed bin Salman will sign agreements with several companies during a visit to the U.S. that starts on Saturday, a cabinet minister said.
Following are the main targets laid out in the plan for the coming five years:
Housing
The kingdom plans to build 1.5 million residential units in seven years, and will do so through partnerships with private sector developers.
It has allocated 13.5 billion riyals ($3.6 billion) in five years to establish partnerships with the private sector to develop state lands and build large-scale residential projects. Real estate stocks surged after the announcement.
Reduce the average time required to approve new residential projects to 60 days from 730 days.
All land holdings to be surveyed, compared with 6 percent currently.



Public Finances
Non-oil revenue is seen rising to 530 billion riyals ($141 billion) by 2020 from 163.5 billion riyals. 
The public-sector wage bill would fall to 456 billion riyals from 480 billion, making up 40 percent of total spending instead of 45 percent.

Public debt will increase to 30 percent of economic output from 7.7 percent, while the kingdom's credit rating is seen rising two levels to Aa2 from A1.
Water and electricity subsidies are to be cut by 200 billion riyals; the tariffs charged on water would cover 100 percent of actual costs, compared with 30 percent now.
A tax would be imposed on "harmful products."
The private sector would fund about 40 percent of the initiatives included in the plan.
Investments, Jobs, Privatization & Exports

450,000 jobs to be created by 2020 under the program.
Non-oil exports would climb to 330 billion riyals from 185 billion riyals by 2020. 
Foreign direct investment would rise to 70 billion riyals from 30 billion riyals.
The minister of environment, water and agriculture said the government plans to privatize the Saline Water Conversion Corp.
Information technology proportion of non-oil GDP to double to 2.24 percent; media industry to contribute 6.64 billion riyals to economic output from 5.2 billion riyals.
Business Environment, Women
Plan to improve Saudi Arabia's global ranking in terms of ease of doing business to no. 20 from no. 82.
Average resolution time for commercial cases to be reduced to 395 days from 575 days.
80 percent of Justice Ministry's services to be delivered electronically.
Female participation in the workforce to increase to 28 percent from 23 percent; number of women in civil service to rise to 42 percent from 39.8 percent.
Energy, Mining
Oil output capacity is expected to stay at 12.5 million barrels per day by 2020, with refining capacity rising to 3.3 million barrels per day from 2.9 million.
Output capacity of dry gas to reach 17.8 billion cubic feet per day versus 12 billion currently. The country will generate 4 percent of its power from renewable energy by 2020.
Mining sector's contribution to economic output to reach 97 billion riyals from 64 billion riyals.
Health Care
Plan for reforming and "restructuring of primary health care" estimated to cost 4.7 billion riyals.
Private sector contribution to health care spending to increase to 35 percent from 25 percent.
70 percent of Saudi citizens to have a unified digital medical record.
Before it's here, it's on the Bloomberg Terminal.
LEARN MORE