business
The 'Yellen Call' Makes July a Live Meeting, Says Goldman
Investors are underestimating the Fed's response to improving financial conditions.
By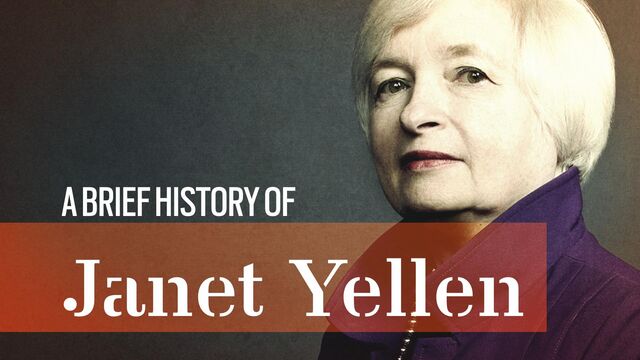 With the S&P 500 within shouting distance of its all-time high, Goldman Sachs Group Inc. has a warning for investors: Federal Reserve Chair Janet Yellen is here to limit your gains.
The U.S. central bank's gyrations from hawkish to dovish and back again, according to Chief Credit Strategist Charles Himmelberg, have been heavily influenced by fluctuations in financial conditions:

Financial conditions, in this case, refers to the level of the dollar, 10-year U.S. Treasury yield, credit spreads, and stock prices, which have an impact on the nation's growth outlook.
"With labour markets tightening and inflation rising, we cautioned that the FOMC would likely respond to easier financial conditions with a more robust withdrawal of policy accommodation," Himmelberg writes. "This 'Yellen Call,' we said, would likely 'cap' the upside potential for risky assets."
This view is not dissimilar from the "not-so-merry-go-round" relationship between the central bank and financial markets outlined by economists at Bank of America Corp. A "bad news is good news" response by financial markets to last week's nonfarm payroll report has the Yellen call poised to move back in the money after the June meeting, Goldman's strategist argues.
Of course, the elephant in the room is that such an analysis is agnostic as to the cause of easier financial conditions. And while financial conditions may be flashing a green light for an interest rate hike, the domestic economic data, because of the jarring jobs report, is now flashing a yellow.
The Fed's opinion on the state of the U.S. consumer, however, shifted relatively quickly from a concern in the minutes for April's meeting to a notable positive highlighted by Yellen in her June 6 speech. Perhaps one solid-to-exceptional jobs report in June will be sufficient to assuage the Fed's fears about possible deterioration in the labor market, especially given that other indicators, such as initial jobless claims, continue to signal little cause for worry.
"We think the July meeting is live, without our U.S. economics team seeing a 40 percent probability of a second hike," concludes Himmelberg.
Market participants, however, aren't as convinced as Goldman.
As of Thursday morning, federal funds futures implied a 20 percent chance of a hike in July.
Before it's here, it's on the Bloomberg Terminal.
LEARN MORE