The X-Men Approach to Medicine
A billionaire scientist is studying genetic mutations to develop treatments for everything from asthma to arthritis.
By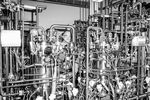 For most people in George Yancopoulos's position, the job offer would have been easy to refuse. Yancopoulos, a 28-year-old assistant professor at Columbia, had just won an eight-year, multimillion-dollar research grant to run his own genetics lab. The job offer was from Leonard Schleifer, a trained neurologist with no business background: Come join my new drug company, headquartered in a one-bedroom apartment at Cornell Medical College.
This was 1988. Schleifer said he wanted to apply the latest gene science to treating disorders of the brain, but he didn't know enough about it—the DNA revolution was still new. Yancopoulos was to be the resident gene jockey.
It took some convincing before Yancopoulos left academia for Schleifer's company, which would come to be known as Regeneron Pharmaceuticals. But the neurologist's pitch was well-timed: Days earlier, Yancopoulos had told his immigrant parents about his grant during a Sunday dinner at their row house in Woodside, Queens. They were less interested in the prestige than in his salary, a modest $30,000 a year. Speaking heatedly in Greek, Yancopoulos recalls, his father lamented that after fighting Nazis and communists and working hard to educate his son, the end result seemed to be "a life in the lab, doing esoteric science that only some people are going to read about in journals." If the young man wanted to cure diseases and change the world, surely he could make a decent living at it, too.
Yancopoulos isn't a young man anymore, nor is his salary modest. As Regeneron's chief science officer, he's become the best-paid research scientist in history, a paper billionaire who earned $40.3 million in compensation last year. His father didn't quite live to see that, but at his funeral in 2010, one war buddy after another told Yancopoulos how proud the old man always was. "He never actually said it to my face," the scientist says, his eyes watery. "He thought that was the right way to raise you."

Regeneron took two decades to win its first product approval from the U.S. Food and Drug Administration, and at times barely survived. The big break came in 2011, when the FDA approved Eylea, a drug used to treat macular degeneration—the leading cause of vision loss in people over 50. Since then, Regeneron has been the top-performing stock in the S&P 500, climbing 2,000 percent to more than $400 a share. Last year, Eylea's U.S. sales rose 54 percent to $2.7 billion and overall company revenue rose 46 percent to $4.1 billion. Regeneron has 13 other product candidates in clinical development, including late-stage trials for asthma and arthritis treatments. Schleifer says it's because he and Yancopoulos built the rare drug company where the scientists are in charge. "George is the most innovative, inventive person that I've ever met," he says. "My main job is to create an environment that allows him to do his magic, and try not to get too in the way."
During the company's years in the wilderness, Yancopoulos's team slowly built a drug discovery infrastructure full of proprietary tools that made new antibodies and formulas easier to develop. Perhaps the greatest advantage was its so-called VelocImmune technology, a way to swap human DNA into lab mice so the mice's antibodies respond to therapies much more like a human's immune system would. These chimeras give Regeneron more confidence that its drugs' effects on mice will translate to people. In the past two years, the company has also set up a genetics center where DNA-sequencing machines run 24/7 to record the genetic codes of, so far, about 100,000 human volunteers.

By Big Pharma standards, this stuff is pretty off-road. Regeneron executives say their free-ranging research science is a function of Yancopoulos's gene-jockey curiosity, an effort to bring parts of his Columbia lab to the private sector. "We sometimes joke that meeting agendas are kind of suggestions, like some people consider speed limits," says Drew Murphy, senior vice president for research at Regeneron. "A lot of that is driven by George's ability to push brainstorming."
At a conference room in Regeneron's Tarrytown, N.Y., headquarters, Yancopoulos still has the energy of a university lecturer who's just recently discovered coffee. He gestures energetically as he talks and has a habit of jumping out of his chair midsentence to draw diagrams on a whiteboard at the other end of the room. He's wearing a slightly rumpled dress shirt, a pair of comfortable brown shoes, and a tie bearing the Columbia logo. (It's one of the two ties he owns.) Yancopoulos's phone rings—it's Enterprise, asking after a rented Dodge minivan. The billionaire's own car, a 10-year-old Honda Pilot, is in the shop with a busted transmission.
"It's not like I'm trying to live modestly," says Yancopoulos, who cooks dinner for his kids and does their laundry in the house he bought during his salad days. (He has, however, built a basketball court in the basement.) "But I'm still a pretty simple guy. There's nothing better than science, nothing better than what we're doing."
Yancopoulos learned early about the transformative power of technology. One of his first memories is of sitting at the feet of his grandfather Giorgos, who was born a slave of the Ottoman Empire in 1883. As a young man, Giorgos escaped to Vienna, the first city he saw lit by electricity, and became an electrical engineer. The family prospered as he helped build some of Greece's first power plants, lost everything after he refused to work for the Third Reich, and started over in the U.S.
Young George attended the Bronx High School of Science and, at 16, was a finalist in the national Science Talent Search. (Last month, Regeneron took over principal sponsorship of the event from Intel.) During his undergrad years at Columbia, Yancopoulos majored in chemistry, lettered in rowing, and was the class valedictorian. Then he earned an M.D./Ph.D. working for Fred Alt, the university's pioneering geneticist, who was working to understand how the human immune system builds disease-fighting antibodies. Alt was also one of the scientific advisers for Schleifer's nascent drug company, and saw the potential for a bright young researcher. "I probably would have been leaning toward George going to a straight academic job," Alt says. "But I knew he would be given a lot of freedom to push his own ideas and a lot of support. We talked about that."

When Schleifer first pitched him, Yancopoulos was a firm maybe. But a year later, he was still waiting for Columbia to build him the lab it'd promised, and Schleifer was already asking him for a list of equipment. Columbia told Yancopoulos he'd have to stop working with Alt and prove his value as a solo researcher; Schleifer was on board for his all-day brainstorming sessions. Regeneron won.
The basic theory guiding the company was that if it could find a way to stimulate regrowth of brain or nerve cells, it might be able to mitigate the damage caused by neurodegenerative diseases such as Alzheimer's, Parkinson's, and amyotrophic lateral sclerosis (ALS). Schleifer had an idea of how this might be done.
The body has a natural process for catalyzing the growth of new cells. It dispatches chemical signals called "growth factors" through the bloodstream. They bind with receptors—proteins that stick out of cells like antennas—and turn on cellular production. Yancopoulos and his team figured out a way to clone these receptors, then worked backward to identify growth factors that turned them on. By 1990, Yancopoulos had a cloned a growth hormone that seemed able to slow or stop ALS's destruction of motor neurons. Amgen agreed to invest $100 million in Regeneron the following year, and Schleifer doubled that total by taking the company public soon thereafter.
But the Regeneron team didn't quite have things figured out. In 1994 the company halted its trials of its first ALS drug because it failed to stop the disease and patients lost significant amounts of weight. Regeneron's stock plummeted from $16 to $4. A second drug failed in 1996. Amgen cut ties. "Devastating," Yancopoulos recalls. "Usually a small company fails a phase three trial, they're done."

Most of the company's first two decades followed this pattern: a flurry of corporate and press interest in a breakthrough by Yancopoulos's team, followed by clinical setbacks and a retreat. "They kind of went into hibernation," says Adnan Butt, an analyst with RBC Capital Markets. "Many people walked away." Yancopoulos numbered among the world's most recognized scientists in 1996, after his team managed to use the same tricks they'd used in the brain to induce the body to grow blood vessels, muscle, and bone. In 1997, Procter & Gamble signed a 10-year agreement to develop and market new drugs, agreeing to shell out more than $135 million in the first five years of the deal. The companies planned to split the profits.
But the setbacks continued and P&G, too, reduced its stake and pulled out of its deal. By 2002, according to published reports that year, Regeneron had lost a cumulative $388 million.
Around that time, Yancopoulos's team developed the VelocImmune mice, a faster way of testing drugs made from targeted antibodies. While Regeneron cut staff, the company negotiated partnerships to capitalize on another drug development innovation—turning the growth of certain cells down as well as up. The R&D team did so by developing what they called traps, proteins that appeared capable of slowing age-related macular degeneration.
Arcalyst, a trap that treated a rare genetic auto-inflammatory disease, became Regeneron's first FDA-approved drug in 2008, but Eylea's approval for macular degeneration treatment in 2011 turned the company around.
"Some biotech companies survive to become a shell of themselves," says Butt. "Regeneron, from the start, has tried to go after everything."
Regeneron had fewer than 700 employees a decade ago; now it's at 4,000 and growing. On the wooded edges of the Tarrytown HQ, bulldozers rumble across hard pack, clearing trees to make way for more parking. For now, things are so tight employees tend not to leave campus for lunch.

The company's current R&D slate includes several targeted antibodies developed using VelocImmune mice. Its next big step, Yancopoulos says, will be targeted genetic therapies based on advantageous mutations. Regeneron's anti-cholesterol drug Praluent, for example, is designed to inhibit the expression of a gene called PCSK9, making it easier for a person's body to break down the "bad" cholesterol known as LDL. (The gene contains the code for an enzyme that bonds to LDL receptors, reducing their ability to clear the cholesterol.)
Among Regeneron's challenges: staying out of court. Amgen, which also has a PCSK9 inhibitor, sued the company for patent infringement, and in March a federal jury ruled in favor of Amgen. While the decision won't keep Regeneron's drug off the market, analysts predict that Yancopoulos's company and its partner Sanofi will wind up paying royalties of 5 percent to 10 percent. Regeneron, which settled a patent dispute over Eylea with Genentech in 2012, is appealing the jury ruling, arguing that Amgen's patents are invalid. Amgen declined to comment for this story.
Regeneron is also betting the human genome contains more such discoveries. In 2014, Geisinger Health System, a network of Pennsylvania clinics, agreed to recruit 250,000 patients to donate DNA. Analysis of the first 100,000 from Geisinger and other partners has already helped Yancopoulos's team link rare mutations to certain protections against heart disease, diabetes, and depression, the company says.
Most rivals in the immunotherapy business don't really match Regeneron's breadth and depth of genetic research, says Alethia Young, an analyst at Credit Suisse. "Their pipeline is able to diversify quickly and they are able to go after a lot of different things," she says. Despite recent efforts to diversify, Celgene remains mostly focused on oncology; Gilead Sciences, a maker of antivirals.
Yet each of those companies has a market cap two or three times Regeneron's $40 billion valuation. To maintain its position and fend off deep-pocketed advances, the company will have to rely on its R&D. "Science and innovation are Regeneron's strengths," says RBC's Butt.
For all that, Yancopoulos is his father's son. "It's not good enough," he says. "We have a lot more to offer. We're just getting started."

(
Corrects list of treatments under development in subhead and fifth paragraph.
)
Before it's here, it's on the Bloomberg Terminal.
LEARN MORE