Spotify Won't Ever Sell to Larger Company, CEO Ek Says
by
Says acquisitions by U.S. tech companies holding back Europe

Ek's advice for Europe's entrepreneurs: 'Don't ever sell'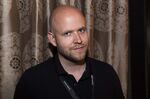 Music streaming service Spotify Ltd. won't ever sell out to a large U.S. tech company, the startup's chief executive officer and co-founder Daniel Ek said Thursday.
Speaking to reporters at a technology and music conference in Stockholm, Ek said that he sees the fact European entrepreneurs frequently sell their companies to larger U.S. businesses as holding back the region's technology sector.
"Not going to sell, no," he said. "My biggest advice for entrepreneurs is don't ever sell."
"All of these things could grow to be gigantic if the founders wouldn't sell," Ek said, referring to King Digital Entertainment, bought by Activision Blizzard Inc. for $5.9 billion last year, and Minecraft developer Mojang, bought by Microsoft Corp. for $2.5 billion in 2014.
Spotify continues to lose money, with the deficit widening to 173 million euros ($196 million) in 2015 from 162 million euros in 2014, even as revenue increased 80 percent to 1.95 billion euros and Spotify's subscribers grew to more than 28 million.
Earlier this week the Stockholm-based startup hired industry veteran Troy Carter, previously manager to Lady Gaga, to strengthen relations between the company, songwriters and musicians.
Before it's here, it's on the Bloomberg Terminal.
LEARN MORE