Style
Invest in Green Seersucker for Summer
This Haspel suit tweaks tradition, still keeps you cool.
By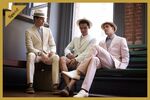 Key Details: A modern take on the American classic summer suit. 
Competitors: J.Crew Ludlow Suit in Japanese seersucker ($456, j.crew.com), Brooks Brothers Fitzgerald seersucker suit ($498, brooksbrothers.com).
Price: $695 for the blazer, $295 for trousers.
Why It's Worth It: Lightweight, comfortable, and offered by the people who invented seersucker. 
Although the first official day of summer is still a few weeks away, tell that to those drips of sweat under your wool suit. Actually, just tell your wool suit to beat it. June 9 is Seersucker Thursday, a U.S. Senate tradition that celebrates this American suiting original. (Joseph Haspel Sr. sewed the first suit from seersucker in New Orleans in 1909.) For the sartorially inclined, this congressional dress-up has morphed into a national holiday of sorts. 
Tradition says to purchase a blue-and-white-striped version, but today seersucker comes in many renditions, black on black, gray on white, and white on white. My suggestion is to step out of tradition and go for a new update, such as this green-and-white-striped suit from Haspel (blazer, $695; pants, $295). Besides it being a lightweight, versatile fabric, you can take apart the suit and wear the trousers or blazer as jaunty separates. 

And just how does seersucker get that crinkle affect? Typically in other cotton suits, threads called the warp and weft are woven tightly together to make a smooth surface, but with seersucker the mill lets the tension off a bit, allowing the yarns to become slack, which creates the pucker. Thanks to those gaps where it's lifted off the skin, air can circulate, keeping you cool. Now you know. 
Before it's here, it's on the Bloomberg Terminal.
LEARN MORE