RBS Chairman Davies Says Brexit Potential Saps U.K. Loan Demand
By
Says foreign investment in U.K. property particularly slow

Expectation of 2017 dividend resumption at RBS 'has receded'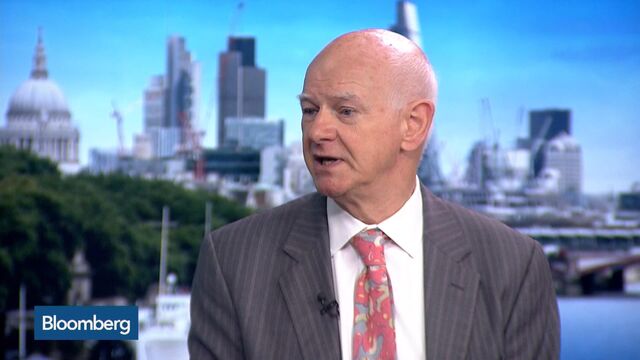 Royal Bank of Scotland Group Plc Chairman Howard Davies said the taxpayer-owned bank is seeing slower demand for loans because of the U.K. referendum on European Union membership later this month. 
"We are seeing a slowing down of the pipeline of loan demand," Davies said in an interview with Francine Lacqua and Tom Keene on Bloomberg Television on Thursday. "Not necessarily the pipeline emptying, if you like, but not coming through very quickly as people are pausing."
Executives and politicians have warned that a British vote to leave the EU on June 23 could spark a recession and a slump in house prices. The Bank of England has said uncertainty surrounding the vote is hurting growth, while institutions including the International Monetary Fund and Organization for Economic Cooperation and Development have warned of dire consequences if the nation votes to leave the world's largest single market.
"People are saying they're putting investments on hold," said Davies, who added that his bank is the largest lender to British companies. "That's particularly true of foreign investment into U.K. property. I've seen a couple of people who have said specifically they had a deal that they thought was going to complete, and then the other end of the line have said they would look at that on June 25."
For RBS, the slowdown in lending demand comes as the Edinburgh-based lender exits countries around the world to focus its business on consumer and commercial banking in the U.K. and Ireland. The state of the economy is hurting the profitability of banks across the region, according to Davies.
"Different banks have approached things in different ways" to tackle low interest rates and sluggish economic growth, Davies said, characterizing markets as being on "life support" from central banks.
"RBS has been very clear about its strategy," Davies said. "We have downsized our investment bank very sharply, we're coming out of a lot of countries, we're focusing on the markets where we're competitive."
RBS reported a wider first-quarter loss in April and said it would take longer than expected to resume dividends as it awaits a settlement with U.S. authorities over the sale of mortgage-backed securities and struggles with the technology challenges of disposing of its Williams & Glyn consumer unit. The stock has fallen about 26 percent so far this year, more than any other major British lender.
"There was an expectation a year, 18 months ago that RBS might be back into a position of paying dividends in 2017," Davies said. "Clearly that expectation has somewhat receded. We still haven't settled on our U.S. subprime business. Those things hang over the stock to some degree."
Watch Next: Howard Davies on What's Wrong With European Banks