QuickTake Q&A: Why Puerto Rico's Debt Became a National Issue
by and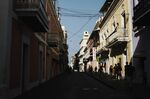 Puerto Rico, like other U.S. territories, doesn't normally get front-burner attention in Washington. But its huge debt has become a pressing issue for Congress, the Supreme Court and the municipal-bond market. As a territory, Puerto Rico enjoyed certain advantages as it accumulated its debt. As a territory, it's now fighting limits on what to do about it.
1. What's happening?

Puerto Rico, already delinquent on its debt payments, can't afford a $2 billion bill due on July 1. With an eye on that deadline, the House of Representatives is considering legislation that would enable restructuring of Puerto Rico's debt, delay lawsuits against the territory and create a federal control board to oversee its finances.
2. How did we get here?
Puerto Rico's $70 billion in debt, amassed from years of borrowing to cover deficits as the economy contracted, exceeds that of every U.S. state government except California and New York. After stating in 2015 that it was unable to pay its borrowings, Puerto Rico's government began talks with creditors, turned to Washington for help and enacted a law allowing it to suspend payments through January 2017 on a wide swath of bonds.
3. Why is Congress involved?
Unlike a state, Puerto Rico cannot authorize bankruptcy filings by local governments and utilities. Some members of Congress have proposed letting Puerto Rico utilities enter Chapter 9, but that legislation hasn't advanced. The current legislation would allow for a broader, court-overseen restructuring of all of the island's debts, including those backed by the commonwealth's full taxing power. That's far more than what's available to states, whose debts can't be discharged in bankruptcy.
4. What's the market impact?
The island's plight affects many people with a mutual fund invested in the municipal-bond market. Muni funds stocked up on Puerto Rico's bonds because -- unlike those of most states and municipalities -- they are exempt from local, state and federal taxes everywhere in the U.S. Mutual funds and investment managers hold more than $30 billion of commonwealth securities, according to Citigroup Global Markets Inc. More broadly, the same relief Congress may extend to Puerto Rico could apply someday, upon request, to the other U.S. territories -- American Samoa, Guam, the Northern Mariana Islands and U.S. Virgin Islands. The governor of the Virgin Islands has warned that the mere existence of an emergency-relief tool would tarnish the territory's standing with investors.
5. What are the potential surprises?
The matter is also before the U.S. Supreme Court, which is considering whether Puerto Rico may give itself the authority to overhaul debts of its public corporations. Puerto Rico lawmakers voted to create that power in 2014; a federal appeals court struck it down as unconstitutional. The Supreme Court could decide this month.
The Reference Shelf
A QuickTake explainer on Puerto Rico's debt binge.
A Bloomberg Gadfly column on Puerto Rico wanting to borrow even more.
An article on how the board overseeing Puerto Rico's finances might be allowed to accept gifts.
Before it's here, it's on the Bloomberg Terminal.
LEARN MORE